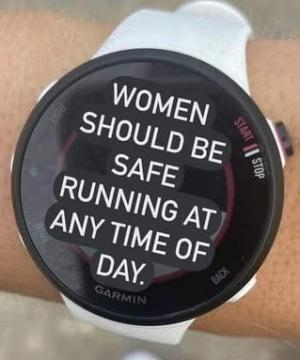 Velociraptor
F50
FERC
About
Race Times
All Races
Mileage
Training
About Me
Welcome to my blog. Sit down (for there's none of That Sitting Disease in here), have some
and

... what? You want a clean cup? Haven't you heard of the Hygiene Hypothesis?

I'm a tomboy who grew up for just long enough to reproduce and drag her kids up to adulthood before sliding gently into senile delinquency. Susceptible to TMI,
CBA
, SAD, and FOMO, capricious and unreliable with occasional flashes of spectacular mediocrity, devoid of fast twitch muscle fibres, blessed with a million different varieties of undeserved privilege and yet never short of something to rant and whine about. Reformed workaholic with occasional lapses. Adoring wife and tandem ballast of eL Bee!, proud mother of Valyrian Plastic, promising young runner of this parish, and of three excellent daughters who promise that they will never run, sometimes run a bit myself because I still can, climbing buddy of anyone who trusts me with the end of a rope, connoisseur of Cumbrian roads, trails and tearooms, intermittent knitter of socks, professional drug pusher with a sideline in white witchcraft, and usually either off my face on endorphins or suffering from withdrawal symptoms.
If I'm smiling, it's because my kids say it makes me look like Hannibal Lecter.
Race Standard

Elk (65)
Achievements
Races

192

Miles

14224

Miles

127

Miles

46195

WAVA

75.56%

100m

21

400m

1:44

800m

3:42

Mile

7:05

5k

21:44

5M

36:06

10k

46:06

10M

1:14:29

Half

1:37:44

20M

2:41:00

Mara

3:36:39

100k

15:03:08
Current Status
Because we'll never be as young as we are right now ...
Groups
This user is a member of
1,000 Miles in 2014
,
100 miles a month - the 2015 edition
,
100 miles a month 2014
,
100 Words
,
1500 miles in 2015
,
700 miles in 2013
,
A Fetch Climbing Weekend Extravaganza
,
Chocoholic
,
Daily Bloggers
,
Fat-Tyre Fetchies
,
Fetch Blood Donors
,
Fetch Cap
,
Fetch Secret Santa 2014
,
Fetch Social Runs
,
Fetchie Craft Folk
,
Friends of Mick n Phil Half Marathon
,
GPS Users
,
Look-a-like opt-in
,
Project Joker