Most Popular Shoe Brands 2020
Every year, we publish a list of the most popular shoe brands, based on thousands of pieces of kit logged by users in the
Fetch Kit Bag
. The figures in brackets show the positions from the previous year.
In 2020, ASICS retain their number one position, but with a drop in overall share of the Fetch market. Brooks close the gap, but only through a smaller loss. Nike climb for the second year in a row. Saucony bounce back from their 2019 dip. Has Hoka's bubble burst? They hold on to fifth, whilst Adidas stay consistent for an unchanged top six. Mizuno, and New Balance make gains in the lower half of the table, nudging down inov-8, whilst Salomon makes way for Altra.
Help us by sharing:
Pos
Brand
2018
2019
2020
1

(1)

ASICS
21.5%
21.1%
18.5%
2

(2)

Brooks
15.2%
17.0%
15.6%
3

(3)

Nike
10.2%
13.7%
14.2%
4

(4)

Saucony
11.0%
10.5%
12.2%
5

(5)

Hoka One One
8.9%
10.0%
9.5%
6

(6)

adidas
9.8%
7.8%
7.8%
=7

(9)

Mizuno
7.0%
5.3%
7.6%
=7

(7)

New Balance
7.0%
6.0%
7.6%
9

(8)

inov-8
6.1%
6.0%
4.1%
10

(11)

Altra
-
-
2.9%
About Fetcheveryone
We are a growing community of runners, cyclists, and swimmers. We offer an awesome training log and analysis tools with no locked-out 'premium' features. Everything is free for everyone! Find races and runners near you, get advice, play games, read blogs, measure routes - and much more!
Click here to join in
Already a Fetchie?
Sign in here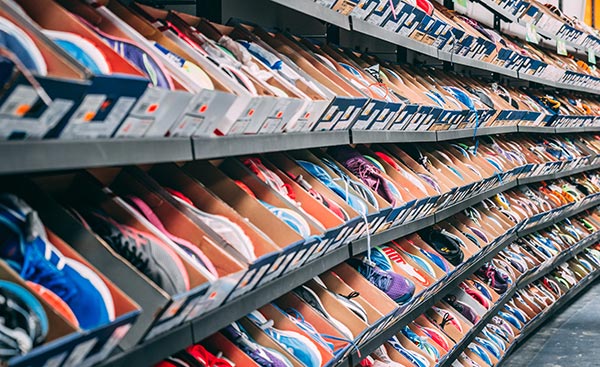 About The Fetch Kit Bag
Track mileage on your shoes, bike tyres, bra, hamster – absolutely any bit of kit that you rely on.
Set default kit for each type of training, and get reminders when you reach a particular mileage.
As stuff gets old, the protection and resilience it provides will start to diminish – and if you start to pick up more aches, injuries, punctures or issues, it's useful to be aware when this starts to happen.
View your Fetch Kit Bag