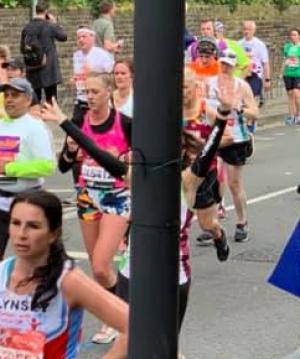 DocMoye
F50
About
Race Times
All Races
Mileage
Training
Races

131

Miles

9116

Miles

5

WAVA

71.04%

5k

22:34

5M

38:08

10k

49:03

10M

1:24:47

Half

1:44:43

20M

7:09:00

Mara

3:58:13
About Me
i took up running after I turned 40, having never run before, and unexpectedly found I liked it. I now run a lot, usually by myself or with my dog. I do very few races but am immensly proud of the times I've achieved in the ones I have done. I am currently sticking to a maximum race distant of half marathon.
Race Standard

Wahoo (68)
Groups
This user is a member of
100 miles in a month? The 2016 group
,
1500 Funky Monkey Tour Group
,
1500 in 2013
,
1500 in 2017
,
1500 miles in 2014.
,
1500 miles in 2015
,
1500 miles in 2016
,
1500 miles in 2018
,
Chuffing Runners
,
Conquercise Game
,
Fetch App
,
Fetch Cap
,
Fetch Secret Santa 2014
,
Fetch Secret Santa 2015
,
Fetch Secret Santa 2016
,
Fetch Secret Santa 2017
,
Fetch Social Runs
,
Fetchies on Facebook
,
FetchPoint Game
,
GPS Users
,
Hertfordshire Runners
,
New Fetch Game
,
Project Joker
,
Run The Sum 2018
,
smiley codes
,
UTMOST