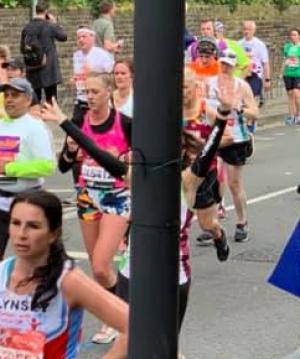 DocMoye
F50
About
Race Times
All Races
Mileage
Training

DocMoye supports Fetcheveryone!
Find out how here
Races

181

Miles

10981

Miles

5

WAVA

74.61%

5k

22:34

5M

38:08

10k

48:52

10M

1:24:47

Half

1:44:43

20M

3:12:16

Mara

3:58:13
Describe your ideal run, ride or swim.
on country lanes with the early morning sun giving some warmth but a light frost on the fields. No one about except me and the wildlife
See more responses to this question
What's the biggest challenge that awaits you?
continuing to avoid injury while striking a balance between doing my best and not pushing too hard
See more responses to this question
What's your favourite thing about Fetcheveryone?
It is such a supportive community. There is always someone to congratulate you when you achieve, commiserate with you if things are not going well and laugh with you when you have experienced the funny side of life
See more responses to this question
How do you pick yourself up when you need to?
get some advice from my favorite forums
See more responses to this question
What's the best bit of advice that you would give to new runners, bikers and swimmers?
The hardest part is getting out of the front door, once you have done that enjoy the experience however it happens to be today. Every run is different and often not the run you expect it to be.....embrace this
See more responses to this question
About Me
i took up running after I turned 40, having never run before, and unexpectedly found I liked it. I now run a lot, usually by myself or with my dog. I do very few races but am immensly proud of the times I've achieved in the ones I have done. I am currently sticking to a maximum race distant of half marathon.
fundraising for Hearing dogs for deaf people
go.sparkpostmail2.com
Race Standard

Tunny (66)
Groups
This user is a member of
100 miles in a month? The 2016 group
,
1500 Funky Monkey Tour Group
,
1500 in 2013
,
1500 in 2017
,
1500 miles in 2014.
,
1500 miles in 2015
,
1500 miles in 2016
,
1500 miles in 2018
,
1500 miles in 2019
,
Abingdon 2018 Fetchpoint
,
Chuffing Runners
,
Conquercise Game
,
Fetch 15th Anniversary Shirts & Vests
,
Fetch App
,
Fetch Cap
,
Fetch Secret Santa 2014
,
Fetch Secret Santa 2015
,
Fetch Secret Santa 2016
,
Fetch Secret Santa 2017
,
Fetch Social Runs
,
Fetchies on Facebook
,
FetchPoint Game
,
FSS 2018
,
GPS Users
,
Hertfordshire Runners
,
New Fetch Game
,
Project Joker
,
Run The Sum 2018
,
smiley codes
,
The Dishwasher Club
,
UTMOST