fetcheveryone - Blog

Add blogger to your favourites
|
See list
How I chose the Big Fetch Mile venues
To help explain my choice of venues, here's a map which shows the location of every person who clicked the link to say "I want a Big Fetch Mile near me":




I would *really* like to go everywhere, and have a Fetch mile for everyone that wants one. But I have a tiny budget, a workforce of exactly one, and have done my best to pick venues that matched the demand.

I hope to see as many of you as possible this year


Click here to suggest this blog for today's highlights.
Big Fetch Mile 2018 - Venues & Provisional Dates
For the unititiated, here's a very brief overview of what happens at a Big Fetch Mile:

1) you turn up
2) you run a mile
3) you eat cake
4) it's FREE, but if you buy some merch, that'd be nice.

Over 500 of you expressed an interest in having a mile near you in 2018. I put everyones dots on a map, and tried to pick some venues that were nearest to as many dots as possible.

Here's the plan (we'll finalise dates ASAP, but do shout out if you've got a preference within the month, for whichever event is nearest you):

Drum roll...

February 24th - Bedford 2-4pm Link (roll over me to see where I go)

April - Walsall / Birmingham

May - Glasgow (poss indoor)

July - Guildford

Aug/Sep - Manchester

Oct - Cardiff (probs at the indoor track again)

(might also sneak in a Derby/Notts one organised by me and the boy, and don't forget RichHL's Jingle Mile in Cambridge in December)

We'd love to see as many of you as possible, so please consider whether you can make it to Bedford on February 24th - add it to your portfolio if you can. There are even rumours of a second Bedford parkrun for you all to try if you're planning to arrive early.

Click here to suggest this blog for today's highlights.
Try adding an image to your training entry
After quite a few days of Cartesian confusion, I've finally managed to install the 'Add Pic' button to your training entries. Look out for it in the summary bar at the top of each training entry.

When you click it, you should get taken to a page where you can upload an image, and then onwards to a page where you can rotate, zoom and crop the image until it looks right. This image will then be displayed as a collapsible bar in your training entry, and if your camera supplies lat/lng coordinates, it'll also show up on your route as a little camera icon.

Here's an example from my run this morning: Link (roll over me to see where I go)

When you use the Facebook/Twitter links to share your training entry with the world, it should then automatically include the image.

I've written the code in such a way that I can also repurpose it pretty easily to apply to user profile pictures, and routes - so it will hopefully spell an end to upside-down / badly cropped user profile pictures



And adding images to training entries is an important step along the way to generating this sort of thing: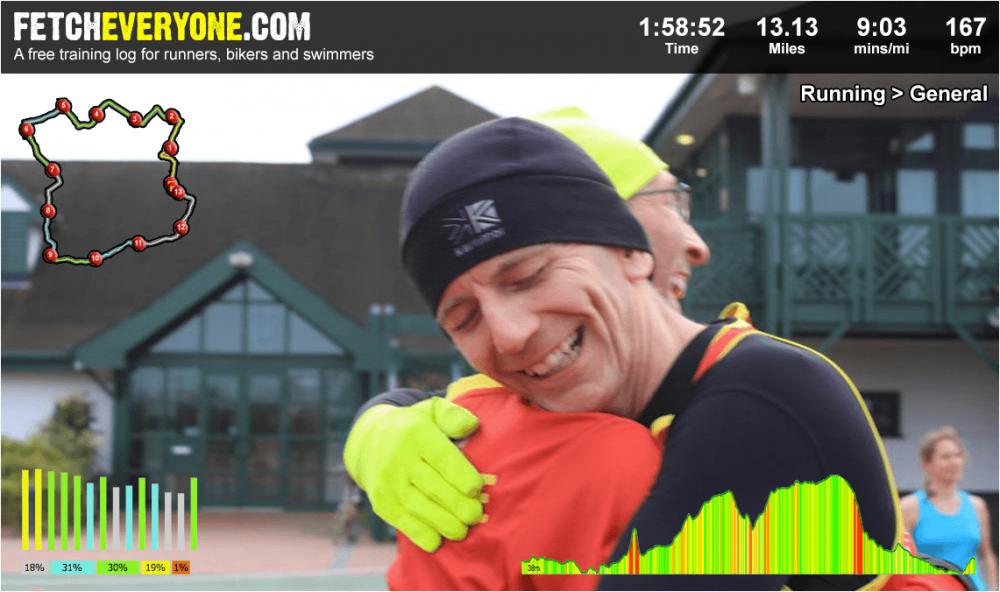 Please give it a try, and help me iron out any issues. Leave me a comment when you're done, so I can go take a nosey at what you've produced!

Thanks


Click here to suggest this blog for today's highlights.
Mileage Targets 2018 - Update
Thanks to everyone who's reset their targets for 2018. Yesterday I revamped the page where you set your targets, so it includes the run-rate graph (which will track all three sports, if you've set goals), and also includes tables that show you your position against other people with the same target.

Link (roll over me to see where I go)

I've also included the top five most popular targets for each distance, so if you like being in a league table, pick one of those. The tables should show the top ten, plus your position if you're outside the top ten.

Click here to suggest this blog for today's highlights.
Up 'til just now, if you'd set a mileage/kilometre-age target, it would be retained for the following year - which was fine, but it meant that our tables often had folks who weren't using the site any more, or who had forgotten about their targets, and moved onto greater things.

I've cleared out the target tables, so if you'd like to aim for some targets in 2018, you need to set some fresh ones. Here's the link to set your targets:

Link (roll over me to see where I go)

To help get this blog in front of as many eyes as possible, leave a comment with your mileage goals for 2018 below



Pip pip!

Click here to suggest this blog for today's highlights.
Everyone! I'm just about to go to sleep, so I haven't got the time to do detail, but you all know who you are. A year that could have been so different, were it not for the support of a truckload of wonderful people. I'm a lucky person.

Merry Christmas, movie house! Merry Christmas, Emporium! Merry Christmas, you wonderful old Building and Loan!

Xxx

Click here to suggest this blog for today's highlights.
Brownie Recipe
1) Chop up 100g of unsalted butter and 100g of dark choc (I used G&B 70%), and melt it all together in a bowl over a saucepan of water.

2) Put 50g of plain flour and 150g of caster sugar into a bowl, poke out any lumps with a fork. Shove two medium eggs in it, and whizz it all up with an electric mixer until you're fed up.

3) Pour the melted chocolate in, and break up 100g of white choc into little bits, and lob that in too. Mix it all together with a fork. It should be a fairly sturdy sludgy mix by now.

4) Grease a baking tin with butter, pour it all in, flatten it out, and bake for 25 minutes at 160 degrees in a fan assisted oven. Let them cool down before cutting them into squares. They're a bit gooey initially, but stick them in the fridge for a few hours and they'll firm up nicely.

5) Shove as many down your chops as you can before anyone notices.

Click here to suggest this blog for today's highlights.
I've finished prepping all the remaining doors in the Festive Fetch Calendar. It's one of those tasks that's kind of fun, and I do look forward to, but also just a little bit look forward to completing. I can let it do its thing now.

I've also posted all the hoodies that have been ordered and paid for. There's time for one more posting trip on Thursday morning, according to Royal Mail. Here's what I have left:

Fire Red £25
========
1 XS
3 Small
1 XL

Storm Grey £25
==========
5 Small
4 Large

Leave a comment if you want one.

I also got out for a run this morning, and I was very pleased to find that I enjoyed it - pretty much the first time I've been able to say that since the engine failure that was Bedford Harriers Half. I managed 5.1 miles, which is quite a feat given that I've only been able to curse my way to a few three milers over the last couple of weeks.

It helped that there was stuff to think about. Katie and Stephen had left the house 20 minutes previously, as I was unconscious in bed - so I tracked them down (Stephen running in mad circles trying to locate my voice, me flapping my arms like a fat bat trying to help him). We ran back towards the house, then I ran on to the town to pay in a cheque.

Since I last blogged, I've seen Star Wars twice, and would be more than happy to go again. No spoilers, but I got a bit emotional second time around, knowing how various bits would unfold. I can't help but love it. I watched A New Hope six times in seven days when I was a kid, complete with eighties ads for VW Polos (being flipped over by Geoff Capes), Brittany Ferries (the parrot, singing "Brittany Ferries sail diiiiirect to Brittany"), Panama cigars, Gold Blend, and more.

In terms of more modern eighties throwbacks, I've also got through series 2 of Stranger Things, once with the Boy, and then again with Katie. He's a bit besotted with it at the moment, so I'm planning to deck out the living room like The Upside Down meets Joyce Byers living room for Christmas Eve, with lots of crepe paper, and christmas lights on the ceiling. Christmas hasn't followed the standard formula for quite some time now, so perhaps it's time to embrace it, and make our own normal.

I also have a new pair of swimming shorts. They are called 'core shorts', and are made of fairly thick neoprene, which will help get my legs up a bit higher in the water, and stop them acting like an anchor. That's the theory anyway.

And if you've been following Katie's blog, you'll know she's aiming for her first OWS endurance swim at the Bantham Swoosh in July 2018. We're hoping to build up the training section of the site to develop swim and bike as their own entities - so the development of the swim section will hang onto Katie's coat tails, and hopefully develop into something specific and useful. If you're a swimmer, and there's something you'd like to see on the site, shout out.

Neither of us particularly enthused about biking though. We need a biking champion.

Gosh, this has been a ramble.

Click here to suggest this blog for today's highlights.
Fetch Hoodies + Buffs SALE Update
Here's what's left:

Fire Red Hoodies £25
=============
Small = 3
Large = 1
XL = 1

Storm Grey Hoodies £25
===============
Small = 5
Large = 4

Buffs £10
======
Enough



Leave a comment if you'd like anything. Pics in previous blog.

Click here to suggest this blog for today's highlights.

Click here to suggest this blog for today's highlights.