fetcheveryone - Blog

Add blogger to your favourites
|
See list
Big Fetch Weekend
We headed down to Wales on Friday afternoon, leaving at 1pm, and struggling through some pretty awful traffic to get to my parents' house in the Rhymney Valley at about 6.45pm (5h45 instead of 3h45). I'm pretty sure I had bedsores by the time I got out of the car. But my mam had made us a huge slow cooker stew, and dad gave us both a big glass of red wine, and we were soon nicely relaxed



A few months ago, when parkrun announced they were rebranding the volunteer kit, my mam took one of the old vests, intent on having some fun recycling it. Here are some of the things she made / decorated. I meant to bring the ted back to sit next to my monitor, but unfortunately I forgot :-/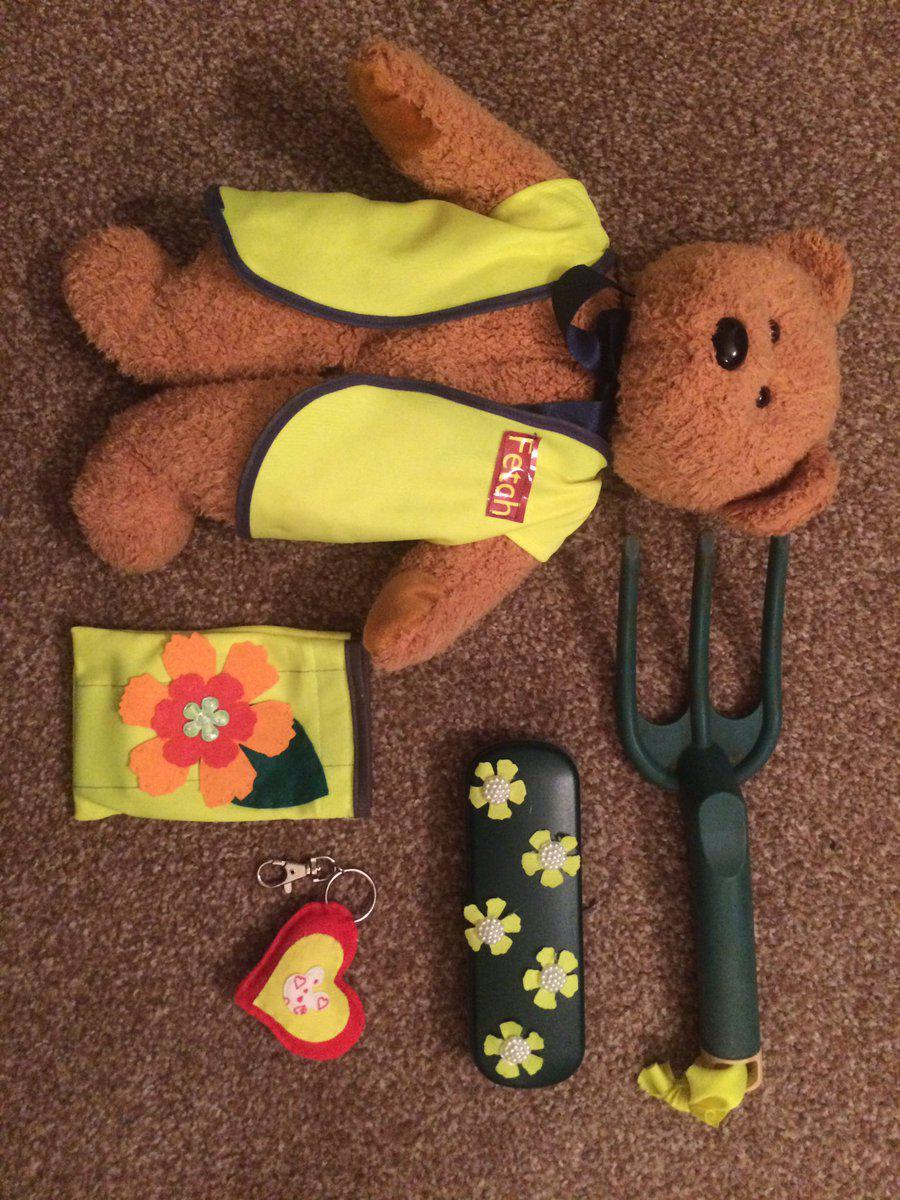 She also showed me her wool room. She buys in huge bulk (the wool usually turns up in those big bags that they deliver building sand in), and then sells on smaller quantities to fund her craft addictions.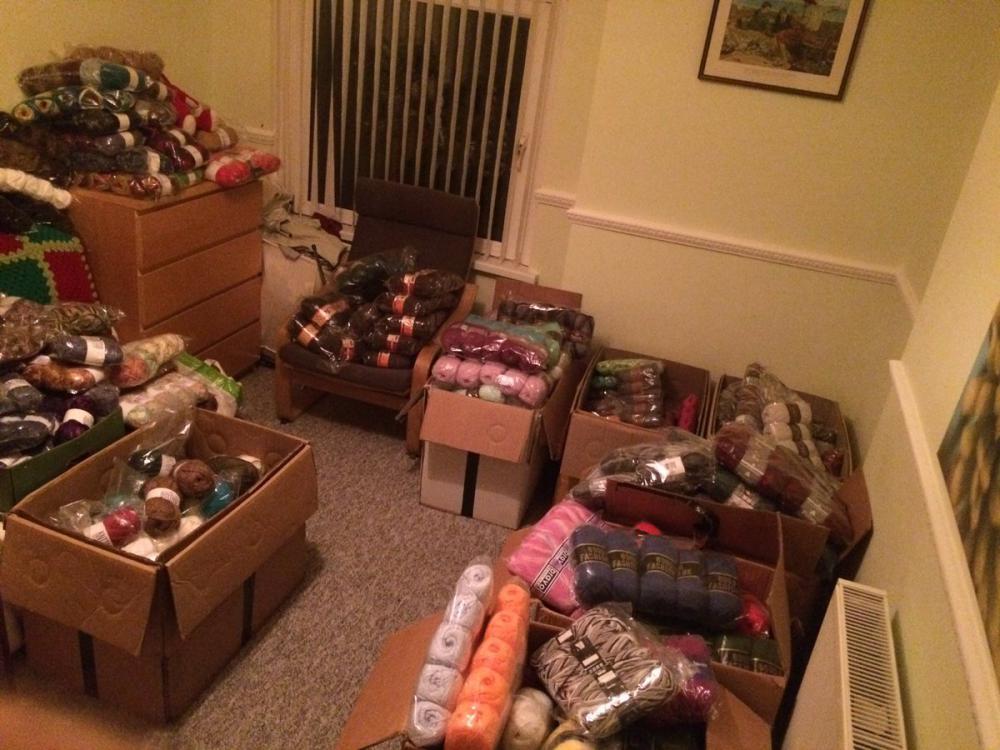 With some trepidation, I decided to join Katie in "giving it some" at Penallta parkrun. Trepidation because I wondered what would be left in my legs by the time I got to the mile later that afternoon. But what the hell



The course is quite undulating - it climbs about 25 metres in the first mile, mostly due to a fairly sharp hill at the end of that mile. There's also a bit of rougher path around the 2 mile mark, before a gentle incline, and then a lovely gentle downhill for most of the last mile. The last time I was here, I set out fast and got slower - but on Saturday I managed to set out at a decent pace, and actually went faster in the second and third miles. It all felt like a nice bit of validation for the longer runs and tempo runs that I've been doing recently, and I came back with a 42 second course PB, and a season's best time for 5k - so I was really chuffed. Katie also did really well, having hoped to get 27:XX, she ended up with 26:02, and says she wants more!!!

Link (roll over me to see where I go)

Our first-timers briefing (which I went along to despite this being my third run here) was led by the entertaining Mike Heare - who organises the local 'Murder Mile' which has a course record of 8:XX. Quite fittingly, he was dressed as a vampire. There were quite a lot of vampires on the course - and every time I saw a set of spindly runners legs in tights sticking out from beneath a majestic billowing cape, it made me properly

lol

!

What I liked best of all about Penallta was the way they've named parts of the course after members of the volunteering team. We ran up Bea's Hill, through Ted's Tunnel (a beautiful willow tunnel, just when you're too knackered to properly appreciate it), and various others. I am campaigning for Bruce's Bump on behalf of my dad.

Back to the homestead for showers, a change of kit and some much-needed toast with my mam's pineapple jam (nom).

We left for Cardiff with plenty of time to faff around when we got there - but where that time went, I don't know.

The venue was awesome - you go through revolving doors, and the track is right there - pretty much open plan, and full of very fit looking people doing impossibly fast sprints with sleighs attached, or else hopping around doing various serious-looking exercises and looking toned.

Luckily, we were able to redress the tone, as my mam had filled the entire boot of dad's car with home made cake and scones - so we quickly acquisitioned two tables, and they started setting up a cake mountain, whilst I faffed about with banners and flags.

As we approached 2pm, a healthy mixture of familiar faces and new runners started to congregate. It was nice that there were a good number of Fetch tops on show, and I hope it helped the new runners feel like they were part of something.

There was a bit of a worrying moment just before 2pm when the centre manager came and said that she thought we were just booked in for an hour, not two. And Katie nearly got Christian Malcolm to join the site - but I'll let her tell that one.

I felt like I could have done with a sheep dog - as our runners started trotting round the track to warm up - but I eventually managed to get them all into a bunch, and did some sort of muttering introduction (I need to work on that).

My dad, nephew, and friend of the family RunnerBean2 comprised 75% of the first race, along with LazyDaisy (who my parents thought was so lovely, they've offered to make her an honorary family member). We were off and running, in a very literal sense.

The eight lap track caused us a bit of angst when, midway through the second race, we realised the importance of counting laps. Luckily, enough of the runners were keeping count that it wasn't an issue, and we upped our game after that.

My turn to run came all too soon, but I managed to do a quick wee (not on the track), and squeeze in a 200 metre warm up. I think I've been in the same race as Mark Beech (formerly No.83912, formerly *squiggle*) at three different Fetch miles now, and I think we're egging each other on. I sat right on his tail on the bends, and yelled at him - partly to keep him going, and partly because it was giving me an adrenaline boost. It was also pretty weird doing 200m laps - twice as much crowd interaction, and a bit more confusion as to when I should be feeling uncomfortably tired. Surprisingly, my legs didn't completely lock up, and although Mark got away from me a bit, I felt like I had a bit of a sprint left in me towards the end, and managed to finish just a second behind him, with the second season's best of the day



Katie knows I enjoy that bit of the event where I've done my bit, and then need to call out the names for the next event. I was knackered, but at the same time really pleased!

Our final two mile races were great to watch (not least because I could relax), but because it was a joy to watch the running style of the competitors. The first saw a thrilling lead-from-the-front display from our youngest runner, who held off a strong challenge to set our new ladies mile record of 5:57. The second was equally hard-fought, with a special mention to SteveP, who got bumped up a race; and we saw our mens mile record reduced to 4:53 by ~Ed~.

As is traditional, we ended the running with a free-for-all 400 metre run, featuring the kids who had sat patiently on the high jump mattress whilst their folks ran; and runners who were still getting their breath back from the last race. It was my favourite moment, seeing and hearing everyone thundering around the echoey track, with every finisher turning to applaud those that followed, until we were all stood bent-double at the finish, spent and smiling.

What follows is more of a blur, as I wandered round to chat to as many people as possible, whilst trying to mainline as much cake as I could fit in my cake hole. I was on a real high - and the

feedback

from the runners was wonderful. My parents were delighted and proud and exhausted and more than a bit grinny!

We'll definitely be back for another Cardiff Mile next year. Look out for it.

There's another very traditional mile gathering at Cambridge at midday on December 2nd. It's also known as the 'Jingle Mile' - and although I'll be part of it, and helping out as much as I can, and it's a very customary Fetch gathering, it's actually organised by RichHL. There's a charity tin for donations - more details to follow on that soon, but if you'd like to come along, here's the listing: Link (roll over me to see where I go)

So as you can see, we're still really enjoying this - and we're looking ahead to next year. Our plan is to arrange a mile every couple of months (so about 6 events throughout 2018), each one in a different location. I'll be doing a poll or something soon, to help me work out where they should be!

Pip pip!

Click here to suggest this blog for today's highlights.

Click here to suggest this blog for today's highlights.
Festive Fetch Calendar
This week I've been busily getting in touch with lots of companies big and small to get hold of some goodies for our FOURTH Festive Fetch Calendar. Highlights so far include a Fitbit Blaze, and a TomTom Runner 3. It's gonna be fun!

Fitbit asked me whether I could point you at their Facebook competitiony thing that they are running at the moment; and having just offered us a very shiny watch, of course I said yes. Please go for a look at their page: Link (roll over me to see where I go)

Please also spare a minutes to vote for us in the Running Awards: Link (roll over me to see where I go) - thank you!

And here's the Weekly vLog, where you'll be able to say "already done it, Fetch" at the relevant moment.





Have a great weekend!

Click here to suggest this blog for today's highlights.
Calling Parkers everywhere!
A donation turned up in the bank account today from someone with the surname Parker - but no reference. And I can't work out who it's from. So if you're a Parker, and this is you, get in touch.

What's that you say? How do I make voluntary donations to support this website? It just so happens, here's the link: Link (roll over me to see where I go)

Toodles


Click here to suggest this blog for today's highlights.
In which I decorate a cake.

Click here to suggest this blog for today's highlights.
Regent's Park Fetchie Discount
Regent's Park 10k, which supports the After Adoption charity is offering 10% off race entry to Fetchies, using FETCH10. They are one of our lovely advertisers, and therefore I'd be delighted if you could give them a clickthrough. Here's the link:

Link (roll over me to see where I go)



Click here to suggest this blog for today's highlights.

Click here to suggest this blog for today's highlights.
"I didn't come here to walk to Sparta!"
If you haven't read it already, you should make a cup of tea and read this amazing account of RunHammyRun's Spartathlon. It made my eyes go all runny, and if you're looking for inspiration on how to dig deep when you're in a hole, this is it:

Link (roll over me to see where I go)

Hammy for MOTM!

Click here to suggest this blog for today's highlights.


Here's the elevation section from the coming-soon training log view. Some key things:

1) the title bar at the top shows the range (max-min) of your route. My flat-as-anything routes around Bedford often give me a few dozens of metres of climb, just by adding together lots of tiny variations in the data. Range puts this into perspective.

2) that said, the main graph will now use the available height to display the elevation profile. Less wasted space that way. The minimum altitude will be anchored to the bottom of the graph, and the maximum altitude is shown by a horizontal dotted line close to the top of the graph.

3) this is the one I'm excited about. You know me, I like a good graph, especially one that tells me something interesting. The new graph on the right breaks your run down into grades. In this case (Bedford Half Marathon - in a hillier part of Bedford), the blue bars on the right represent the uphill sections of the race. It shows that about 17% of my run was on a 1% uphill gradient, 12% was on a 2% uphill gradient, 6% was on a 3% uphill, and so on. There's a few bits that reach 7-8%, which is starting to feel quite uncomfortable

The dark bars on the left represent the downhills - they are similar, as you might expect for an out-and-back course.

It's easier to see the merit in this graph with another example. Here's a 12 miler training run from last week:




The elevation profile looks fairly busy, but the range gives the game away - the highest and lowest points differ by just 8 metres. And the grade graph on the right confirms it - there's a bit of 1% and 2% action - and even a tiny bit of 3%. But the majority of this run was on a 0% gradient i.e. pancake smooth.

Let me know if you like it, and/or if you have any suggestions to improve it. This will go live as part of the new training log, as soon as I can. Cheers.

Click here to suggest this blog for today's highlights.
Chicken Ballot-ine, with a side order of beef


It's been an interesting week for runners. 50 likes on this video to see me do yoga.

Click here to suggest this blog for today's highlights.
I got a bit code-blind by about 4.45 today, so I had some Photoshop time putting together some new headers for the updated training log. As well as having some cute little background stuff going on, they're also 23 pixels shorter in height - putting you one step closer to your all important data.




NB it's not entirely obvious because it's been pixelated a bit when I uploaded it, but the swimming one is fish. Here's a hopefully clearer version of the image: Link (roll over me to see where I go)

Also... the data in the top right of each header will be different, depending on what sport it is. This is just to illustrate the look. So swimming might have strokes per length, and biking might have power. Etc.

Let me know what you think


Click here to suggest this blog for today's highlights.
Ballot day tomorrow - help needed
Tomorrow, 386,050 runners will find out how they got on in the London Marathon ballot - and at least 90% of them will be rejected. I also saw a stat that said 58% of the applicants would be first-time marathoners.

I thought it'd be an ideal opportunity to highlight the vast number of spring alternatives, so tomorrow I'll be sending an email out to the Fetch masses, listing the alternatives. There's so much more out there than the events that make it onto the telly.

Can you spare a moment to help make sure we've listed as many spring marathons as possible?

If you can, a good place to start is to do a search on Fetch for spring 2017 marathons, and making sure they have a corresponding 2018 entry. If they don't, look for the 'Copy' link.

Could you spare five minutes to check a few of your local ones?

Thanks if you can


Click here to suggest this blog for today's highlights.