Steve Way Made Me Quit!
Don't let genetics beat you!
Unless you've been living under a rock for the last year, or have no interest at all in running (in which case, this maybe isn't the best website for you), you'll have heard all about Steve Way... or, as we call him round these parts, Marigold.
The legend goes something like this. Overweight couch potato in his mid thirties, weighing 16 stone and smoking 20 a day, gives running a go.
And discovers he's brilliant!
Turns up at the London marathon, off three weeks of training, and clocks 3:07. Within five years (and after LOTS of training) that marathon PB is 2:15. Steve's the British 100k record holder, and is lining up alongside Mo Farah.
It's an amazing, inspirational story. And from what I gather, it couldn't have happened to a nicer bloke. Plus, of course, if I was a coach potato, I can't think of anything more likely to get me off my backside and into some trainers. Because you never know until you try, do you?
But here's the thing. I'm not a couch potato. And there was one detail of the story that I kept coming back to.
I couldn't help thinking about that day when Steve stormed to his 3:07 marathon. You see, like many, many others, I'd have been about an hour behind him... having trained a hell of a lot more.
In fact, I'm pretty certain I will never run a 3:07 marathon. Ever.
Don't get me wrong: I'm taking nothing away from Steve's achievements. He's worked flipping hard for his 2:15. For the 100k record. He thoroughly deserves his standing in world athletics, and - more importantly - his status as a Fetch Everyone Member of the Month.
But 3:07, off next to no training? That's just not fair.
Call me naive, but I liked thinking running was fair. I liked thinking you work hard and you get your just rewards. You do your long runs. Your intervals. Your hill reps. You put the mileage in and you get better. And it's true: you do.
How much better, though? That's down to genetics.
You see, there's a school of thought that running results are pretty much down to training, and natural-born talent only really comes into play at the highest extremes of performance. And it's baloney.
What's more, it's pretty offensive to people in the back half of a race - most of whom do take it seriously, and do train hard for whatever gains they get.
From the little I understand, the stats - comparing race performances of people who have done similar training - suggest we're all pretty much born into a league division. It's just how well we do within those limits that's up to us.
For me, that thought started to colour every race. Every result. Every effort. I started looking at friends' PBs and wondering if they're just inevitably better than me. I even accidentally started a punch-up on Facebook by bitterly posting from a race presentation: "Let's give the same few people yet another prize and a round of applause for their choice of parents."
(Yes, it was nasty, childish and unfair. But at that moment I felt like I was born to be an also-ran, and it really hurt.)
Clearly, this isn't a good situation. Question is, what am I going to do about it?
I'm going to quit.
Quit running? Hardly. It's my one sort of exercise. My one release. My sanity... Besides, when I first took up this sport, I used to tell people "Running is horrible... but moobs are worse." As far as I'm aware, that still holds true.
Quit racing? Maybe. For now. While I get my head together. After all, running's supposed to be fun, and if racing makes me sad, why do it? But I do like having a race in the diary. It scares me into actually getting out when it's cold and wet.
But really, if there's one thing Steve Way has inspired me to quit, it's this: I need to quit comparing myself to other runners.
Any improvements I make aren't about beating other people (which is just as well really)... they're about being better than I was before. Or at any rate doing as well as I can.
That's not easy, because I'm a competitive sort of guy. But if I can do it, it'll really set me free to enjoy my running. After all, however much I improve, there'll always be someone faster. So I'd always be unsatisfied. And where's the fun in that?
If I'm going to keep running for years to come, and not hate it, this is a lesson I need to learn.
So here's to you, Marigold. No doubt your story has started a whole bunch of new running careers... it might end up saving one here, too.
If you enjoyed this article, please share it with your friends:


Pic: Getty / GK Hart/Vikki Hart
About The Author
When he's not plodding round the wilds of Cornwall, Discovery Dave (formerly known as Fat Dave) runs Lungfish, a marketing copywriting agency. He also has a mildly entertaining blog about writing, marketing and PR.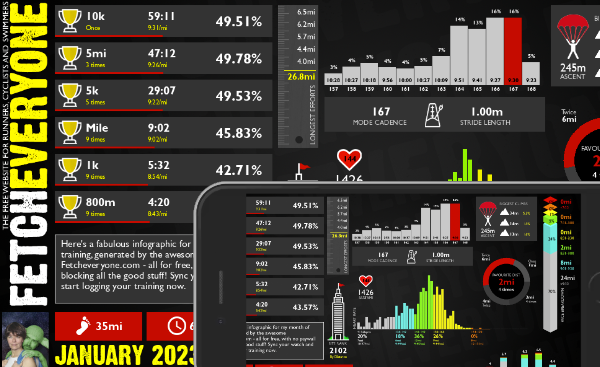 Monthly Summary
A brand new shareable infographic showing a colourful breakdown of your training month.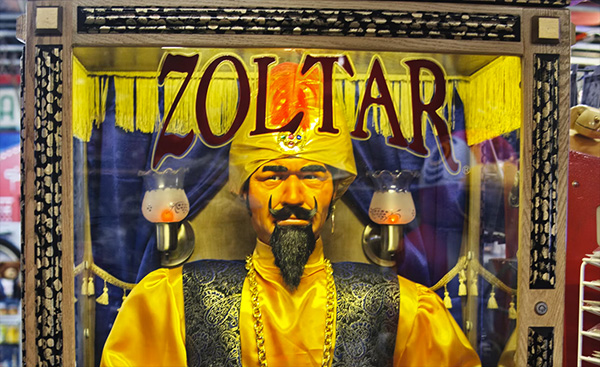 Marathon Prediction
We delve deeper to give you greater insights when working out your goal marathon time.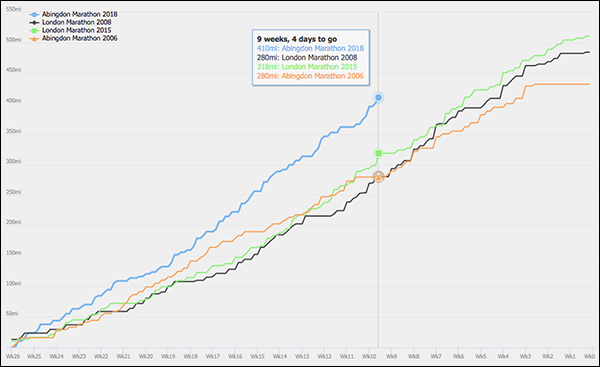 Pre-race Training Analysis
See your accumulated mileage in the weeks leading up to any event in your portfolio, and compare it to your other performances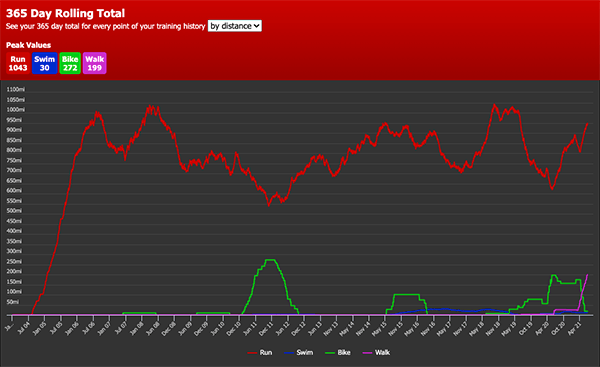 Your 365 Day Totals
Peaks and troughs in training aren't easy to find. Unless you use this graph. Find out what your peak training volume really is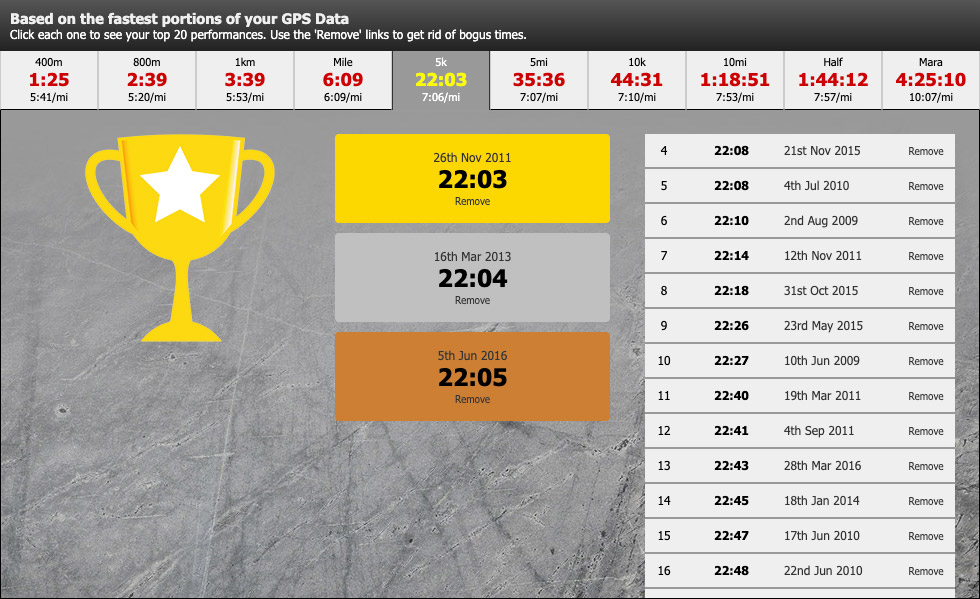 Benchmarks
See the fastest portions from all your training runs. Filter by time to give you recent bests to aim at. Every distance from 400m to marathon.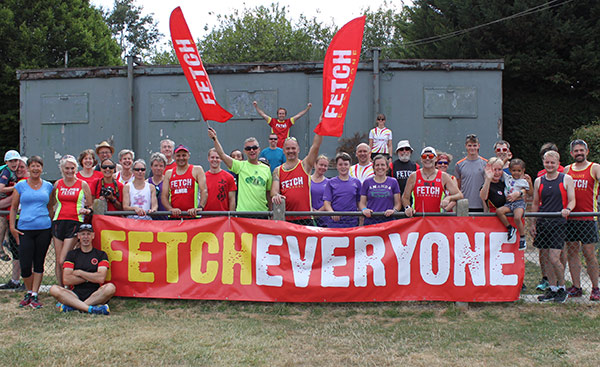 Fetch Everyone Running Club
Join our UKA-affiliated club for event discounts, London Marathon ballot places, the chance to get funded for coaching qualifications, and a warm feeling inside.