McNewbie - Member of the Month Interview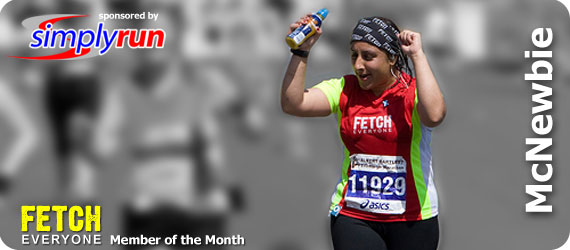 Fetch says: She's not really all that McNew any more, but she's a McWinner at last! With my usual apologies for the delay in getting these interviews live, here comes McNewbie!

Our chosen winners get £100 of goodies from our sponsor, SimplyRun.co.uk.
Meglet asks: Well done Tiger :) With retrospect, was Mick right to advise you to avoid an off-road race the week before Abingdon Marathon, or are you glad you ignored his advice and ran it anyway?
McNewbie says: Thanks Meglet :) It's easy now to say 'Mick was wrong', because I 'got away with it', but his advice was the same most professional, experienced runners (or indeed those with common sense!) would give. And quite honestly, I would probably advise the same. For the Woodland Challenge, I weighed it up, this was a race I was very keen to do. I missed out on it in 2008 due to family commitments, gutted, having heard so many positive things about it (the Fetchie involvement c/o Tiggia!), but now, badly-timed injury was a risk. After much careful thought, I made my decision, went ahead with it, took the race slow, and I had fun with it. If I had got injured and missed Abingdon, I might be answering differently, but I would stand by the decision I made. Injury can and does happen any time, any where. Of course, I am relieved it didn't happen at that race, Mick and you lot would never have let me hear the end of it ;)
Pestomum asks: Questions, gentlemen, questions! Here're my TWO - for starters!!! CONGRATULATIONS lovely person! How do you fit so much running in around your family commitments? Where they impressed to see you at Abingdon? When your kids are all grown up, do you think your running goals will change? Oops. that was three.
McNewbie says: Thanks Pesto :) I really don't run all that much compared to some Fetchies. You mustn't mistake my excessive blogging and chat for actual running ;) It's not easy fitting it in around a young family, something many Fetchies will sympathise with, and I love the support and advice we offer each other. A routine has developed over time, but one that has to be flexible, and I try not to beat myself up too hard over missing runs. I get out mostly when the kids are at school; I adapted my marathon training last year to do my LSRs on weekdays. Weekends, the best time is in the morning, when the kids are least bored, and the o.h.is half asleep, so I'm not too missed! The kids loved seeing me set off at Abingdon, and when I crossed the finish. They do love seeing my medals but I am not sure if 'impressed' applies. My 7yr old and 5yr old cannot comprehend the achievement it is to run 26.2miles; it impresses them more that I'm Scottish like their beloved Tenth Doctor ;) Running goals when they're older, hmm, I am quite keen on the idea of ultra running (well, I say that now...!). I need to develop a better, more stable level of fitness before I venture into ultra running (I'll be asking you for advice when the time comes!). It would be easier if they were at an age I could leave them home alone for a bit, but I'll see how itchy my feet get!
Tiggia asks: Well done sweetie! Firstly, Meglet's question is, of course, a great way for you to promote the Woodland Challenge for me! :P Secondly, what proportion of your running do you enjoy, and what proportion do you find tough going? And thirdly (sorry was it only one question?!) do you have any idea how happy your tiger face made Mr Tiggia? That's his favourite Woodland Challenge photo!
McNewbie says: Thanks Tigs :) The Woodland Challenge rocks but no-one enter till I'm in! :) I took up running for enjoyment and I try to remember that, when I get those days where my running disappoints me. It might seem like I don't take my running very seriously, because I always appear to be laughing over it, but I am wary of letting one of the loves of my life, become a pain or a burden. In that sense, I am terribly serious about it. I would say that I enjoy 90% or more of my running; we all have bad days when the breathing is all skewiff or the legs hurt too much to keep going, that will be the 10%. But I feel it's so much about perspective, and about focusing on the positives of every run (we're lucky to be able to run when so many can't out of injury),or remembering that there's always the next day. Everyday life has it's own stresses and problems, I try and make the running about being happy in my own skin (and trainers). I'm pleased the 'Tiger Face' brought a smile to everyone! Though I wonder if I'm missing a trick in not asking Mr Tiggia to charge every time that photo is reprinted ;) I do plan to be back for the race in 2010, it would be fun to see more Fetchies join me, Fetchie Tigers United ! ;)
Merry Xmas And A Happy New G(rrr) asks: When you moving back up to Scootland? Do you think you'll do 100 marathons? When will you do your first ultra? Where do you find the determination to keep going both in a race and in training, when you're feeling fecked, as we all do? Daddy or chips? Many, many congratulations, on MOTM and on fandabi result at Abidabi mara. Very well deserved! :-)G
McNewbie says: Aw, am I missed ?! ;) Thanks for organising the Fetchie Frolicking run round (very icy!) Arthur's Seat for me and icklechick, it was one of the higlights of my Christmas/New Year trip back home! A move back to Scotland *might* be on the cards within a few years, but nothing is definite, and the hospitality of the lovely North Westies is second to none! 100 marathons - yes, I think I can do it, I might be incredibly old by the time I get there (!) but it's a definite dream of mine and I feel so inspired all the time by following the progress of other Fetchies. First ultra, goodness, I really don't know when; as I was saying to Pesto, I would like to see my kids older, as training takes up so much time and energy. However, I am keen for my first to be in Scotland, my eye is possibly on the Glasgow-Edinburgh one, where else ? ;) Every race, every training run is different, I have different things on my mind. When I am totally fecked, what works one day, won't necesarily work the next. It comes down to me telling myself I should be grateful to be alive, as a mark of respect to my late cousin who died tragically young, and I should be grateful to be able to run, respecting those who are unable to through injury. There is a lot to be said for being grateful for what we have, appreciating what we have, before it's gone. And enjoying the moment, seeing the beauty around us, being proud of what we are achieving, be it a mile in training, or 26.2 in a race; happiness is running :) Daddy or chips? Definitely chips, from Edinburgh, drowning in chippy sauce ! And thanks for your support, Haps, can you organise a marathon through my home city with thousands of runners, including lots of Fetchies and a Fetchpoint.... oh you star, you already got that sorted for my next trip back home ! *bows before the Great Hapster* :)
santababy asks: Well done Noobs, when are you gonig to change your name? You're not a Noob anymore! What's you're goals, long term running wise that is, and do you want to move back here?
McNewbie says: Thanks, Santa, oh but I will always be a Noobs to you and everyone here! :) There was a thread started about changing my name, some rather funny suggestions (I choose not to take anything personally off you lot!). The 'Newbie' also originates from 'Scrubs', the main character, JD, gets called that by his mentor, and I'm now wondering whether it's wise, my publicly admitting to really identifying with him, lol ! Och well, you all think I'm nuts anyway, no change there ;) Long term, my running goals are to get faster at every distance, sub 6min mile, sub 22min 5km, sub 45min 10k, sub 1.40 half, 3.30 marathon. This is VERY long term! Apart from that, ultra running, I love long distance running. And yes, I do want to move back to Scotland, I have more reasons than ever for this, since I took up running and Fetching :) It would mean Scottish Fetchies taking me for granted though, but I'll take that risk ! ;)
Stella asks: Did you know you make me laugh alot?...... and why do you call me Bella?
McNewbie says: Yes, but I promise to bore you when I see you, wouldn't like you to wet yourself now ;) This interview will show you my more serious side - what do you mean I don't have one?? And if you insist on responding to Bella (as well as Della), I am likely to carry on (ella ella ella) ;)
GordonG asks: Fab, well done. IMO one of the most interesting threads of the year was the one your did about training during Ramadan. Once Ramadan had finished did you notice any difference in your running ability i.e. changes in stamina/speed, etc?
McNewbie says: Thanks Gordon, very kind of you to say so :) Ramadan, 30 days of fasting, isn't easy but it's something I am used to, every year. Combining it with running was difficult, or rather, combining it with marathon training for the first time. Once Ramadan was over, I felt mentally stronger, pleased with having kept some of the running going. Stamina and speed were definitely reduced, I felt like I was running on empty a lot, I slowed to try and get extra miles in. I attempted to make up for it by eating and drinking more. Somehow, I went on to PB at Abingdon; I wouldn't say it was as a result of keeping myself hungry through training, that's wrong, the PB came about for many reasons. The increased mental strength and determination to succeed really kicked in. And if folk do have any more questions about it, feel free to fmail me anytime about it :)
Doctor K asks: Hi Mc Newbie, well done. I've asked this of others, Who is your favourite runner of all time?
McNewbie says: Thanks Doctor K :) I thought long and hard about this question, and realised, I really don't have a favourite runner. I remember looking up to Liz McColgan as a youngster, because she was such a positive Scottish role model at the time, but she never got me into running ! I admire the achievements of the greats, perhaps more the long distance runners over the short distance runners, because it's what I love doing more. Gerbreselassie comes across to me as the kind of guy I would enjoy chatting to and have a laugh with, it's that big warm smile of his. Usain Bolt would be great to watch live, but I don't think I'd enjoy a drink with him, seems a little vain and boring (am I too judgemental here, lol). Very honestly, my favourite runners are the ones on Fetch, real people who are giving it their all and trying to achieve their goals, while juggling the demands of work, families and so on. I have a lot of love and respect for MicknPhil, their determination inspires me more than the big famous names do. I love coming across a blog where someone is revelling in the glory of having ran over a mile non stop, or somone just completed their first race, the excitement is infectious, and inspiring. The runners on Fetch are my favourite runners, terribly soppy probably, but very true :)
Dave B asks: Well done McN, What kind of mental preperation did you have to put yourself through in readiness for torturing yourself by running a marathon with Mick? ;-)
McNewbie says: Thanks Dave :) Oh goodness, I don't think anything can quite prepare you for the torture of running with Mick (Phil's a sweetie!) ;) It was terribly kind and generous of Mick to offer to run Abingdon with me, it wasn't easy for him at all, as my pace is so much slower than his. I have the fondest of memories of that day, and it was such an honour, such a humbling experience for me. By the way, I would like to lay claim to having given him the hardest race of his life ;) Well,okay,maybe for just that year then, lol !
For My Light asks: Well done McN Are you going to change your fetch name, because you are not really a newbie anymore? If you did what you call yourself?
McNewbie says: Thanks FML :) I think I'll stick with this name, a name change would confuse people now. That said, a certain Edinburgh parkrun Fetchie thought I was this was genuinely my surname (slight mix up that we resolved!), and one fmailed me, mid LEJOG, passing the town of Newbie (never knew there was such a town), wondering aloud if my parents had done a 'Beckham' and named me after where I was conceived. Err, no, folks, it's not my real name, lol ! As I said earlier, 'Newbie' refers not just to my inexperience as a runner,but also to the loveable, albeit slightly neurotic, main character in 'Scrubs'. If I did change my name, then maybe something like McBounce or McBouncy. Most Fetchies would still know it was me then ! ;)
SpicedApple asks: Congrats, McFabulous, well done! Will you take your new trail shoes out more often soon, and what environment do you think they'll most love to run in? Do you have any favourite running routes? Oh, and about that gossip you were going to share.. :-p
McNewbie says: Thanks Spicey :) I got my sexy kool Adidas Kanadias out a lot over the winter, with all the snow and the ice. I do think they are more suited to trail and mud, doing a good job in their first trail race; they were a bit useless for that run round Arthur's Seat with the Fetchies, on pure ice, I was actually crawling or needing 2 Fetchies to support me (lol), oh and the slipping ! My favourite running routes are pretty much within Heaton Park. I'm quite lucky that I can get away from the cars and traffic quite quickly and be surrounded by trees, birdsong and beautiful views. Any time you're in Manchester, let me know, it's the best place to run! And I emailed you about the gossip, not that I ever partake in such things, nope not me ;)
Hills of Death (HOD) asks: Well Done McN much love xx What are your goals for 2010 :)
McNewbie says: Thanks HOD :) I would like to try and find new places to run; a slight improvement to time management and I could find more interesting places further afield. The last couple of years have been unsuccessful in an academic sense though, so this is the year I find the right balance between that and running (eye of the tiger, grrrr!). My main running goal for 2010 is Edinburgh Marathon in May, I'm hoping to work hard enough for a sub 5 (more eye of the tiger, grrrrr!). Plus a 2nd marathon, in the autumn, I was hoping for a local one, to fit round family commitments, but nothing decided yet. My problem is finding one that really moves me, means enough to me to put myself through the mental and physical training (I reserve the right to be fussy about the 'small' matter of 26.2miles!) Possibly Abingdon again, maybe, depending on family commitments... but only if you and Jock Itch promise to shake your maracas again for me ;)
Dai Bank asks: Hey Newbs mucho congrats. So the question-running during fasting easier in the mornng or in the afternoon and how will your running be affected over the next few years and ramadan coincides with longer daylight?
McNewbie says: Thanks Dai :) Running in the afternoon was easier, interestingly enough. I found I was tired in the morning, having got up for sunrise, and still digesting whatever I had eaten at that time. I felt more relaxed by afternoon and mentally stronger for a run. As Ramadan shifts back a couple of weeks every year, longer daylight will be an issue for me, as will the warmer weather. I suspect it will just be a case of reducing my mileage and doing what I can, being as sensible as I can, keeping the running short and regular. Races will be planned around accordingly. There will be years I can't do Edinburgh Marathon, a race I hope to make as much as I can, so I will Fetchpoint instead, and do earlier spring marathons, ones I don't consider at the moment, because Edinburgh is convenient, in terms of free accomodation and babysitting, since I stay with my parents. Plus it's my hometown, it's special in a way no other place can be. I'm unlikely to do a race for the sake of racing, maybe I'm overly sentimental, but I need the race,or where it is, to mean something to me, to make the training worthwhile, to justify it all, especially when I am at a low point in a race. I don't see me racing during Ramadan but planning around it will always be an annual consideration. That said, I mistimed my first Half, it clashed with fasting (oops), I was quite annoyed at myself for that, as I take my fasting very seriously. I just need to check the calendar properly next time !
Naomi P asks: Congrats McNotSoNewbie :-) Now you're an accomplished marathon runner, what's next for you?
McNewbie says: Thanks Naomi, MOTM for November :) 'Accomplished', me, que ?? I would like to keep doing marathons, I think I have a lot to learn yet about them, and a lot more enjoyment to get, too ! The general plan is to do at least a couple every year, and reducing my times for each distance, over time. I'm not a fan of speedwork (yet?!) so just going to keep running. 'Keep running' is pretty much the overall plan :)
Corona asks: Congratulations McNew :-) Giving you the opportunity to explain whatever you want, my question is Why ?
McNewbie says: Thanks Corona :) Yours is the shortest but toughest of all ! I would like to mention running with music here (training only, I won't go into the whole 'ipod in races' debate, I love you all really!). Why ? Because I love music. I can't sing (not well, at least!), I can't play any musical instruments (again, not well, at least!), but music moves my very soul. And running with music in my ears, it's combining two loves, really doesn't get much better than that :)
Che dragon asks: Well done Sis, perhaps tme to ditch the Newbie bit. Anyway, questions, questions... Would you fast even if you didn't have to?
McNewbie says: Thanks, and I prefer 'Sis' to 'Beti', lol ! Och, I'll always be a newbie to you, Che ! As for fasting, I fast because it's a part of my religious beliefs. I don't see why I would fast otherwise. I mean, if it was decreed that fasting was revoked or something (who would do that, Islam doesn't quite have a Pope figure, okay, maybe your lot do!), I wouldn't fast. But, it's so inherent to the religion, it's one of the 5 pillars, I can't imagine not fasting. As you understand, it's such a personal and spiritual thing, a time when Muslims take time out to think of the needy, the hungry, the less fortunate, and reassess ourselves as to the kind of people we are and people we are becoming. That said, I prefer fasting in the winter, when the days are shorter ! ;)
Tikka asks: Well done, McNewbie, much deserved. My question is: Given that I guessed aaaaaaaages ago that your mystery coach was Sir Mick of MicknPhil, when can I expect my prize to arrive? :P
McNewbie says: Thanks Tikka :) Sorry, that was the wrong answer, it was actually the very reserved and unassuming andydog. And please don't call him 'Sir', Mick's never going to make his races with Phil, if that head of his keeps growing, preventing him fitting it out of the house ;)
Sophster asks: Congratulations McNewbie. Where is your favourite place to run? If you could run anywhere, where would you go?
McNewbie says: Thanks Sophster :) My favourite place to run is Heaton Park, it's a real haven from the streets and the polluting cars. Time, financial and family commitments dictate how far I can go for a run. I quite fancy the idea of travelling abroad for a weekend every month, one month perhaps France, the next in Switzerland (hmm, need better trainers for their snow, then, as well buying a few lottery tickets...). There's just such a huge world out there, so many places I haven't ran in. I spent a few days in Amsterdam last year, packed my running kit and trainers (of course) but had no time for a run, which annoys me to this day. Once those trainers go on, you can go anywhere, and I like that sense of adventure; it's too easy to lose that sense of invincibility when we get older, and I indeed feel older all too often. You can name any place and I would say yes to running there, especially if there are other Fetchies going too :)
Hills of Death (HOD) asks: McN are you expecting the North West Xmas party to be a quiet affair ?
McNewbie says: The North West Christmas Party was a shockingly quiet and dignified affair. The token Cockney unable to drag the respectable North Westies to the depths of debauchery ?! Perhaps things go downhill properly when more Londoners are present... There's a challenge in there somewhere ! ;)
Chromey asks: Am I still going to hell ;) ?
McNewbie says: Hell ain't a bad place to be', so the song goes ...?! I've had a word with Him for you... few years of keeping quiet and you'll be out of Hell on good behaviour ;)
Steady Edina asks: McNewbie yeah North West fetchies salute you........ What are you going to get with your vouchers and how are you going to stop Tracy39 leaving Fetch?
McNewbie says: Thanks Steady, I am humbled by you lovely North Westies :) I am thinking of getting a Nike sportsband, to allow me to run where I like, without having to map my route when I get home (and memorising all the streets for a LSR isn't easy for me!). With the rest, I think I'll treat myself to nice capris or a top, stuff that isn't from Aldi ! I am working on a plan to keep the wonderful Tracy39 with us, it's based on meeting up for dinner regularly and begging her to Fetchpoint everything and anything ! Fetch is for cyclists, swimmers, triathletes and so much more than a place for runners to discuss running; this place is all the better for having non runners here, quite often rightly reminding us how lucky we are to be able to run. It's easy to take it for granted, so Tracy and others thinking of leaving, please don't, it wouldn't be the same without you :)
Spally asks: Top news McNoobs - a well deserved winner What got you started on this running melarkey and how do you get to be so bouncy and full of life ;-)
McNewbie says: Thanks Spalls :) Just before Christmas 2007, I got news that my much-loved cousin passed away in his sleep. He was the same age as me (26 at the time). It was a terrible shock to the family, and unfortunately it took a tragedy like that to kick my obese ass into gear. I was determined to make the most of whatever time I had left, especially with 2 young kids depending on me. Running to lose weight, and get more out of life, came to mind as a good friend of mine recently started the whole 'malarkey'. I wondered what the fuss was about, why someone would want to run in the cold, despite it making you hurt and bleed (sometimes!), wouldn't it be nicer to be inside in the warmth with a mug of hot cocoa... But in January 2008, I gave it a go, and I fell in love :) Not much beats being outdoors with the wind in your face, your whole body working together to take you further and further, and that sense of achievement at the end, to have done x miles, it's a brilliant feeling. With lots of much-needed support behind me, I did a local 5k then the Great Runs in Edinburgh and Manchester, within 6 months of taking up running. It just snowballed really, I was told Fetch was a great place to log my running, the chat soon followed ! I did my first Half (Glasgow) 9 months after my first run, and my first marathon was the day after my 28th birthday, when I was about 17 months old running-wise. 'Bouncy and full of life', lol, one may blame Coke for that ! ;) I'm just terribly enthusiastic about running, it's one of the most beautiful things in the world to me, and it's been amazing meeting so many Fetchies that feel the same way. Having lost a family member when he was so young, it affected my outlook on life a lot more than I expected. It might sound silly, but, if I am not enjoying what I have (in terms of family, health, friends and so on), sometimes it almost feels like a disrespect to my cousin, and those who would give anything to be alive and with us today. I'm really very understated and quieter in real life (sometimes!); it's the wonderful land of Fetch and it's people, that bring out my bouncier side!
pink-lady-kat asks: congrats way to go hummmmmmmm what to ask i have no idea . did you do running in school or anysports in school . do your children go out with you at all when you run if so how do you keep your pace , if not how do you motvate your children to be active , top 10 songs on your ipod . sorry a few i have asked xoxoxoxox((((HUGS)))))
McNewbie says: Thanks kat :) My secondary school made us do cross country the winter and I hated it. Looking back, I was setting off too hard, too fast, though the time spent running gave me much inspiration for English essays... I was much more into team sports, like hockey, that was a lot more fun. I also did badminton, tennis, basketball, swimming and rowing. I wasn't uber-sporty, I just liked sports and enjoyed representing the school a few times - they were short on numbers, I had no illusions about my ability ! ;) Quite honestly, running made no sense to me at the time, I preferred the company of others in sport. I have tried taking the kids out with me but it hasn't been very successful, trying to please two children of different ages was stressful. They were very keen to race a 5km and I took them to the local parkrun, but it was harder than either of my marathons, I swear to you, the longest, most arduous race of my life ;) The kids are pretty active without me needing to motivate them most of the time. I signed them up for football coaching sessions in the mid term holidays because I knew it was their thing. I do think that they feel motivated to do more because they see me in my running gear all bouncy happy. I'm not sure if running or racing will be their thing, but when they see me come home with a medal or mug or goody bag, as well as a better-tempered mum, they see that sport has it's rewards and benefits. Their mood is constantly changing, though, it can be hard to deal with mum having her own life. The recent heavy snowfall was good for quality time with them, lots of running amidst snowball fights ! :) The songs on my mp3 player (iPod shuffle recently died :() at the moment are a mixture of pop, R'N'B, rock, classical and Bollywood film soundtrack music. You could say my taste was eclectic then ! Leaving out the Indian tunes you'll never have heard of nor understand, I am currently enjoying: the Rocky theme tune (of course!), 'Talk Dirty To Me' by Poison (good memories of Edinburgh Marathon LSRs), 'The Wonder of You' and 'A Little Less Conversation (remix)' by Elvis Presley (the King is alive!), 'Umbrella' by Rihanna (motivating when it's raining), 'Undisclosed Desires' by Muse (most recent track I downloaded), 'Fight For This Love' by Cheryl Cole (guilty confession!), 'Halo' by Beyonce (Edinburgh Marathon training and race day memories), 'Stronger' by Kanye West (motivating), 'One Day' by Elbow (really motivating), 'The Fear' by Lily Allen (love the lyrics), 'I Will Survive' by Cake (great going uphill), 'Never Forget You' by The Noisettes (memories of hot summer days). Sorry, that was more than 10 ! :)
flip asks: Well done McMotm ! Will you ever conquer your inherent shyness?
McNewbie says: Thanks flip :) I don't know, I fear my near-crippling shyness will forever get in the way of me getting to know Fetchies, I really ought to do something about it... Actually can I blame my whistle-blowing at the Big Fetch Mile on shyness? No ? Oh well...
PLight-cominatcha asks: question sunday morning, 3 degree C outside, rain in your face, blowing a gale, youv'e got 10 mile run pencilled in. do you add another 5mile for hell of it, or put your feet up and watch the young guns on T4?
McNewbie says: Okay, all of this is assuming I haven't got the usual nagging aches and pains, right ?! ;) I would be inclined to run another 5 miles, once I worked out a way of running with that gale behind me ! I love running in the cold because I heat up very quickly, and don't relish the feeling of being hot while I run. Cool drops of rain on my face, oh heaven ! And after that, surely some 'Scrubs' repeats ?! ;)
andydgg asks: 22 mile into a marathon; what are the thoughts that are uppermost in your mind, what thoughts give you the edge to keep you going?
McNewbie says: Two marathons on, 22miles for me is definitely 'oh bugger the time, I just want to finish this' point ! Edinburgh Marathon, as you'll well remember, it was so hot, I was rationing what drinks I had due to shortages. I was focusing on the next mile marker, sharing my moans about my aching with Jaks but also encouraging her, which in turn boosted me. My mind kept wandering back to the previous day, the best birthday ever, and it felt brilliant to be racing my first marathon on the first day of my new year. The journey to the race had been an amazing one, right up to reaching the start line, the race itself had so many high points - got to mention the High Five Fetchie session during the out-and-back bit! I knew there was so much more to come, that kept me going, and it still does :) At Abingdon, I had Mick supporting me the whole way. Leaving aside the 'we're half way there' remark at 13.1miles - which is NOT half way in a marathon! - I really appreciated his cheering me on, words of encouragement, and having faith in me. My mind focused on the fact it was very close to the end, Fetchpoint had been a great boost both times, and it was great to see Last of The Time Lords clapping us on during the race, and not pulling me off for being too slow! 22miles in, there was 'just a bit more' to go, and I thought about how good it would feel to cross the finish, the stadium finish and seeing Fetchies cheer me on. I thought about what I had liked/disliked so far that needed mentioning in the blog, I didn't plan to blog a DNF, and I thought about chatting to others about how it all went, once it was over. The mind was trying to distract itself from the pain the body was in, because it's true what they say, that pain is temporary, but the feeling of pride and glory is forever :)
Cavalryman asks: Whoooooooooooohooooooooooooooo! Which character in Ashes to Ashes would you most like to be?
McNewbie says: Woohoo indeed, thanks :) That's difficult,because you know I love Gene Hunt, he's uber cool, and so to 'be him' would be great fun! However, I think I might prefer to be in his team, crack myself over his one-liners, his politcally incorrectness and so on! So, Alex Drake then, but a less weird version of her (one that enjoyed being back in time a bit more), clashing with Hunt but still on his team, telling Raymondo to fire up the Quattro!
TripletDad asks: Well Done McN, my question is how were you still smiling and happy and able to roar "Fetchie" at the top of your voice when I saw you at Mile twenty something of the Edinburgh marathon when everyone else around (including me) was grinding to a halt?
McNewbie says: Thanks TD :) That's easy, because I had great company for those last miles, in the wonderful Jaks, and because I spotted Fetchpoint ! I was grinding to a halt earlier on, near Gosford House, my low points weren't caught on camera. But Jaks and I kept each other going, having a good moan as well as cheering each other on. Seeing Fetchpoint, adrenaline (from somewhere?!) kicked in, I had been desperate to see it, for drinks and snacks, but also much-needed hugs, and Fetchpoint delivered on every level ! So much so, and so spoiled I was that day (as well as at Abingdon later), that I may actually refuse to do a marathon that doesn't have a Fetchpoint ! ;)
Magbag asks: Congratulations Noobs :) :) :) Who is your running idol ? and why ?
McNewbie says: Thanks Magbag :) I idolise the runners on Fetch, their determination and tenacity inspires me. Singling out isn't easy because so many mean so much to me ! But I must give two a special mention. Firstly, andydog for all his warm support and getting me onto the world of Fetch, I honestly wouldn't be doing this interview without him. I've followed his progress from near enough day 1, he's known about mine since my first step, and whilst he is very critical of his own training at times, I hugely admire how he's overcome a lot of obstacles, and just kept going. That is a constant inspiration for me. He'll hate me for saying all this, but I am very grateful to the shy, quiet, unassuming one (and oft misunderstood one who needs to master online communication better with his fellow Fetchies ?!) :) Secondly, MicknPhil, running idols to most runners I've spoken to about them. I met the family at the Friends of MicknPhil Half last March and have kept in touch ever since. Mick has been a huge source of technical support to me, always there when I need to ask anything, no matter how small. I, like so many, am in awe of how he manages to race, nearly every weekend, pushing Phil in that very heavy wheelchair, doing times I currently only dream of. It's not just the running, it's everything he has to deal with around it, looking after Phil before, during and after, then back home to care for Mrs Mick, too. I don't know how he does it, mentally and physically, but somehow he does. He says that the sometime pain of running long distances is nothing compared to what he's gone through with caring for his disabled son; I can't begin to imagine that feeling. Knowing him is a true and humbling honour.
jaks asks: Many congrats McN are we on for a sub 5 at Embra and how many ibuprofen would you like me to bring?:P
McNewbie says: Thanks jaks :) Yes, we are on for sub 5 - see that pic of me with my arms in the air at mile 23ish, Fetchpoint? That was the ibuprofen kicking in, lol ;) Bring as much as you can, hun, we are nailing sub 5 (shall I bring roller skates, lol) !
66 Johns a waddling asks: Best race/worst race and why? Fulham or Chelscum?
McNewbie says: Best race, after much agonising thought, Edinburgh Marathon 2009, my first marathon (have I mentioned that at all, lol). I was at a level of fitness I was really proud of, after much hard work. The race was a bigger challenge than I expected, due to Sahara-like temperatures, and water stations not having, well, water ! But I look back on it and I am proud of how I dealt with it, I had highs and lows, but persevered, and really importantly to me, I let myelf enjoy the experience. I could easily complain about my time, the organisation, the conditions. But at every obstacle, I chose to laugh things off, I focused on the fun of my first time, because the one thing I can control is how I perceive things. And it was truly the race of my life (so far ?!). Worst race is perhaps my first one ever, a club 5k. I drank too much before setting off, and reeeelly needed 'to go' as soon as the hooter went ! I set off way too fast too, I couldn't listen to my music to calm me due to earphone problems, I had a painful stich past the halfway point. I recall really not liking the whole experience ! But, and as 'wrong' as it sounds, as soon as they placed a medal round my neck at the end, all the pain melted away, I was on a super high for days, eager for the next race ;) Oh, and I am more inclined towards the club that doesn't have a shady billionaire playboy at the helm, using it as a hobby to pass the time ;)
monsenb1 asks: Well done McN....tough opposition..you came shining through may I ask whats changed in your life since you found fetch?
McNewbie says: Thanks monsenb1 :) A lot has changed, and for the better ! I have liked every Fetchie I have met (waiting on the exceptions to that rule ;)) and I've made some really nice friends. Fetch was initially just about measuring my route and logging my training. The chatting, fmailing etc all soon followed; it's really frustrating now to have a whole day go by without being able to log in ! I look forward to wearing my Fetch kit in races and meeting up with Fetchies afterwards for cake and post-race analysis. It's just become a really positive part of my life. Fellow Fetchies who don't know me have given me much-needed lifts to a race, one organised a lovely run when I went back home to Edinburgh for a short holiday. I did the same, organised a run for Fetchies, post Big Fetch Mile in Manchester, which was snowy fun ! My life still revolves around my family but it's become a fuller life because I have found people who feel the same way about running as I do. Finding Fetch has lead to me racing more than I would have on my own, travelling further afield, and having many mini adventures along the way. It's a better way of life, having found Fetch :)
jennywren asks: Brilliant news! Well deserved too :) Is your coach (not Mick, I know who it really is) still coaching you?
McNewbie says: Thanks jenny :) 'Coaching' sounds so formal, I prefer 'being a pain in the ass' ... hmm, that applies to both andydog and Mick ! ;) They have both been really supportive, and it's not just them, I often get fmails off Fetchies, who have come across something in a blog entry, offering their own ideas. I absolutely love that about Fetch, it really feels like a community where people look out for each other. It's especially humbling when someone who has been running for longer than I have been alive, decides to fmail words of advice. That doesn't apply to andydog, but that definitely doesn't stop him thinking he's a know-it-all (it's okay, he'll never read this...) *ducks anyway* !
B.B. asks: Daddy or chips?
McNewbie says: Chips, a la Edinburgh, with chippy sauce, delicious !
bigleggy asks: Will you ever delete the Rocky Theme tune off your phone ?
McNewbie says: Terribly unlikely, you never know when you come across someone in a race, needing motivation to get to the finish line - that tune could be the difference between a PB and a PW ;)
Hills of Death (HOD) asks: Q Why are you so small ?
McNewbie says: Because the best things come in small packages :p
Cabbey asks: Well done McN. What race would you love to do in the future, and do you prefer hot or cold running weather?
McNewbie says: Thanks Cabbey :) Give me cold running weather any day ! I heat up fast, so hot days make me look redder than my Fetch cap. All my PBs are in cooler weather. There are a lot of races I would like to do,I haven't gone abroad yet (Scotland doesn't count, does it ;)). But to single one out, I am rather keen on the Disney Marathon, purely because Mickey Mouse presents you with a Mickey Mouse - shaped medal: the child in me is impatient to do that one !
Snapstinget asks: Does he always use vaseline? Everywhere?
McNewbie says: He swears by it, and I find it best to avert the eyes, unless you want nightmares :-o
Kittenheels Kath asks: Congratulations! You're clearly a very lovely lady. Is the world your oyster?
McNewbie says: Thanks Kath, very kind! :) The world is indeed my oyster I have the pearl, I just intend running with it now ;)
RFJ asks: Red or Brown Sauce or Mayo with chips.........
McNewbie says: Brown sauce,but only from an Edinburgh chippy, and a touch of mayo on the side, incase I feel like it !
Argie asks: McNewbie, congratulations. I guess like the rest of us you like road running so can I ask what is your favourite Bituminous Surface Treatment? Cheers Argie
McNewbie says: Thanks Argie :) I think, as we are still in a recession, a mixture of bitumen and crushed rock - otta seal -, is the way to go... But I'm happy to bounce along on any road, long as there isn't any ice !
FitterStu asks: Well done :) Absolutely deserved. What advice can you give to those of us planning to break our marathon virginity next year?
McNewbie says: Thanks Stu :) Goodness, I would advise asking someone who's done more marathons, lol ! But since no-one else is about... I feel your first one should be special, because for many, and for many reasons, it will be the first and last. So it shoud be something you can look back with pride. That means giving it your all in training but also bearing in mind that the distance deserves respect and is unpredictable. It means needing to go into the race expected the unexpected, being flexible with your racing plan. You can't control the weather or the route, but you can control how you approach it. Me being me, I have to say, let yourself have fun, it's your first time, and be prepared to laugh off problems. It would be such a sad waste to panic over things that are outwith your control (know in advance that you are likely to laugh it off eventually, so why not now!). Marathon training takes months, it's a huge undertaking, both physically and mentally. When the day comes, do your best, and allow yourself to feel pride and joy over your achievement. And I would heartily recommend making yourself known to your fellow Fetchies. My first marathon experience is full of chats with similar paced Fetchies and big high fives. Fetchpoint is there for a reason, you can keep going if you're fine, but if you need them, then do take advantage, it's why they are there, to help us (and God bless each and every person who stands there for us!). So, really, train the best you can, and set off with a smile on the day, focus on your own race, and allow yourself to enjoy it all, savour every second :)
she runs for cake asks: Whoohoooo! Congratulations McNoobs!!!!!! It has to be a cake related question from me....what's your toppermost fave cake? xxx
McNewbie says: Thanks Cakes :) I seemed to be loving carrot cake at the moment, used to be mad on chocolate fudge but not had a decent slice of that in ages. I'm also partial to coffee cake... you know what, cake's cake, bring it on, hun ! :)
(Claustrophobic)Tracy39 asks: Well McNoobs You did it! Blinkin' brill My question is If you were on Big Brother.....................;-)
McNewbie says: Thanks Tracy, couldn't have done it without you and the North Westies ! :) Hmm, what a fascinating question, deserves maximum concentration... ;) Oh, and you won't find me on Big Brother, too many unforgiving cameras on me, nope, however, Fetchie Big Brother, that would be interesting... ;)
SIR MicknPhil asks: Ok Nooobs CAN you ever for see yourself reaching 100 Marathons, after all, your only young yet, you've years in front of you to do this you have proved that your a marathon runner, and you enjoy running have you given it any thoughts, cos we've chatted for hours and hours about things have'nt we ahh
McNewbie says: Bless you for thinking me 'young' ! And yes, I do see myself reaching 100 Marathons, albeit in my 90s at this rate... I don't think I see myself as a 'proven marathon runner', more as a 'marathon runner', if that makes sense. 'Proven' to me suggests having done more than a couple, and, for example, that didn't require months of recovery after each. Having covered the distance, I am more filled with awe than ever, for those who do it on a regular basis. As long as I keep enjoying it, there is a lot more left in me yet !
AntBliss - the great dollop asks: Congratulations ! when you accept your prize from lord Fetch, which black dress will you be wearing and how high will the high heels be ?
McNewbie says: Thanks Ant :) Unfortunately, there was no prize-giving ceremony, which is rather disappointing, it means I can't go shopping for new outfit ! ;) But had there been such a do, then I would have opted for an elegant floor length number, I think, and 4 inch heels.Well, at least that many inches, otherwise poor Lord Fetch's back could go, bending so low to present the award ! ;)
Last of the Time Lords asks: Many congratulations McNewbie :) Well deserved! When you take your very first step on a training run, what are you thinking?
McNewbie says: Thanks Doctor :) I begin every run with 'Bismillah'. No, not in homage to Queen's Bohemian Rhapsody... It's Arabic for beginning something new, in the name of Allah. Every run is different: recently, my first thought has been 'don't slip, don't slip'. Most of the time, I am thinking about remembering to set off slow, and making it a good run. The plan for that run (time-wise or milage-wise) will be in my head, and the first step taken has me thinking about sticking to it. I focus on ignoring the bad points of the last run, for example, any niggling aches. I must admit, I have caught myself growling out of determination, with the first step...
Jock Itch asks: John Noakes allways used to tell his dog Shep to 'Get down!'. If you had a dog what would you tell him to do ? :)
McNewbie says: I'm admittedly more a cat person than a dog one, or have I just not met the right dog yet ?! If I had a dog, I would say 'HUG!' - hugs on cue, fandabbydozy :)
TooLilac asks: congrats McN. Are you going to spend your vouchers on any purple running kit ??
McNewbie says: Thanks TooLilac :) I do like purple, as it happens ! No idea yet what colour the kit will be, I just fancy trying out an expensive brand, to add to my mostly cheapy wardrobe ! :)
mad4purple asks: Congratulations Mcnoob, Did you enjoy the day trip into Manchester with me? Will you ever be brave enough to go to a make-up counter and brave it and ask them to do your make up?
McNewbie says: Thanks Purps :) I had a great time with you, though odd to be seeing a Fetchie and not be running at the same time, lol ! I find make up counter ladies a bit scary or snobbish, but I'll try and ignore that one day, and demand a free makeover. You taught me so much ! ;)
bigleggy asks: You once told me you wanted to run 100 Marathons - Are you insane and do you have a timespan in mind to achieve this ?
McNewbie says: Was this mid Liverpool Half 2008, when I was hobbling towards a PW ? ;) Not certifiably, no ;) And I don't currently have a timespan in mind. Though I am keen to do it before I die, I can't see me achieving it after that...
Maclennane asks: Do you think people underestimate how hard it is at the back of the pack?
McNewbie says: Yes... Oh, do I need to expand on that, lol. Seriously, yes. I think some, not all, runners are slightly derogatory about those at the back. There is the assumption that folk are always having a party, a chat, even cake at the back. I have never been offered cake, before anyone asks. Of course, depending on the race and one's mood, the back is a fun place. But those at the back can be trying just as hard as those speedier runners at the front, they have simply positioned themselves according to their pace. It can be hard in the sense that you're trying not to be last, you're competing to be as further away from that as you can. At least if you miss out on 1st or 2nd etc place, you've still beaten most of the other racers. But I know it's easy for me to take that perspective, as a back-of-the-pack runner; I can imagine it must be pretty gutting to miss out on 1st place by a few seconds, it wouldn't matter then how many you had beaten in that race. Now, not that I am petty, but *voice gets whiny*...I came 3rd in my wave at the Big Fetch Mile, but really I should have been 2nd, because a faster runner decided to drop down to my wave. I'll get over it eventually, because she's such a loveable Fetchie *waves fist anyway, then stops before said Fetchie brings up my whistling, lol* :)
Pestomum asks: C'mon guys. Proper questions. What's the most useful piece of training advice you've had? What one piece would you give to a REAL newbie?
McNewbie says: Too many proper questions, my brain's frazzled ! ;) The best advice I have had is to take it slow, and I think that is equally useful for newbies, and not-so-newbies like me. A lot of experienced Fetchies have advised me this since I took up running. I remember looking at a Runner's World plan for beginners, the run-walk thing, and thinking it looked too slow, too easy. But it definitely pays off, in terms of injury and building mental strength, by taking it slow. A friend recently took up running and she complained how it hurt, other newbies have said the same to me. I've been there, heck I still do it,set off too fast,unable to control myself, and the aches or difficulty in breathing is offputting, often disheartening. It sounds so simple, and requires a lot of patience, but taking it slow in the beginning, really does reap rewards. After a few runs that don't please me, I find just setting off a lot slower, relaxing a lot more, can make a big difference in the next run, as to how much I enjoy it, and as to how far I end up going. And in time, the slowness gets faster, the main thing is to enjoy the journey getting there, it shouldn't all be about the destination!
SIR MicknPhil asks: McN give us your honest opinon now after 2 FM's out of 100% which is most vital in marathons physical fitness and ( physcological and mental stamina ) 10 - 90 20 - 80 30 - 70 and which way around they go you'll know what i mean, we've discussed this many times good luck always with everything u do
McNewbie says: Thanks Mick :) I can only opinionate after the experience of 2 marathons, I'm sure someone like you, who has done more marathons than had tubs of vaseline (a lot, right ?!), will think differently. The level of psychological and mental stamina needed surprised me, during my first LSRs, it was easy to think that it's all about the physical state. I would probably see it as a 30-70 ratio, mental to physical. The mind is such a powerful thing, I couldn't have imagined myself doing 26.2miles not very long ago. I could easily have decided to put off marathons until I was fitter and faster, as many (quite sensibly!) do. But I know my own head, and the longer I put it off, the more it would become something I feared and wouldn't do, despite being more prepared for it. I remember my first race, a 5k, and I was in such a terrible mess (only one other person can testify to this!). I was physically fit for it, I had trained well, I was really ready for it. But mentally, I almost fell apart, the nerves were near destructive. That experience has always stayed with me. Of course I still get nervous pre race, but I try and make them 'good nerves' that work in my favour, they keep me on my toes. It applies to marathon running too, I take my 'head' as seriously as I can. Before Abingdon, I took some time out, to resolve issues in my head, partly unrelated to the race. I came back, clearer and happier, more focused for it. It might sound a bit 'wishy-washy' but I think you need to figure out what works best for you, it's a distance that needs respecting and no messing about with.
windassisted asks: Well done hun. You were the first fetchie I ever met in real life. Apologies if it's been asked before, but why do you run?
McNewbie says: Thanks windassisted :) I am glad I didn't put you off Fetchies and Fetchland, lol. I run because I can, I love how it makes me feel, and where it takes me. It takes me to streets, parts of my local park I didn't know existed. It makes the world feel smaller, in a good way; 5miles used to be so far away, a driveable-only distance for me. Running leads to racing, and that means meeting lots of lovely like-minded people, who don't question why I run (in the sometimes derogatory way that some non runners ask). I'm having a lot of fun with it, so why not ! :)
barryp asks: congrats. what is your favourite cheese?
McNewbie says: Thanks barryp :) Ooo, that's a tough one, I actually expected this from Jacobi... I have such a fondess for Dairylea triangles, nostalgia and all that, but when I am feeling more grown-up (!), I like garlic and herb Philadelphia on my crackers. I await cheese connoisseurs to turn their noses up in disgust at me, and issue some kind of cheese-based fatwa.... eeee, Gromit....
sioux asks: Will you ever make it to North Wales?
McNewbie says: North Wales, is that in England ? ;) I am going to make it a priority to make it to Wales in 2010, possibly for coffee and cake, but hopefully for a race ! None of you North Welshies bite, do you, I have heard the weirdest rumours about you lot .... ;)
the vicious chicken asks: Well done, McMOTM :-) What is your favourite running memory, or best running moment (so far)? And also: we know that you've done plenty for running (or certainly for fetch), but what has running done for you?
McNewbie says: Thanks v.c. :) Two years of running and racing, so many wonderful moments to choose from ! I still remember that feeling, the first day I got out for a run, and that's a wonderful memory in itself, immediately feeling good, sensing this was the beginning of something really positive. The best moments so far have been crossing the finish line at both my marathons, the elation is more than visible for Edinburgh, as I was filmed jumping up and down after it! But also, my first race of this year was Edinburgh parkrun on the 2nd day of 2010, 'just a 5k', but it was the final of 3 Fetchtastic running/racing days, that re-energised me for Edinburgh Marathon training :) It's very kind of you to say I have done a lot for running and Fetch, I assure you I have got a lot more back. I've gotten fitter, feel more confident in my skin (all of which suffered a bit after having 2 kids!). Running has also introduced me to some wonderfully nice people, I am constantly amazed by the kindness of strangers here. It's also taken me places I haven't been before, I've raced in villages I had never heard of before, and in that respect, running is strengthening my sense of geography, lol. By giving space to running, I have become a part of a wonderful community of people; my life has another purpose to it, another joy, that I hope to treasure for a long time to come.
RunGaryRun asks: A warm congratulations to you Mc. (I may have voted for you - but I can't remember, we had to vote quite alot in a short space of time) Anyway - my question is - which runner (Fetch or Famous) would you most like to have dinner with and why?
McNewbie says: Thanks Gary, don't worry about it, lol :) I have had lunch/dinner/drinks with the Fetchies I love most, so this is a pretty tough one indeed ! I hope you don't mind me choosing 2 runners here. Fetch-wise, there are still lots of Fetchies I would like to meet, but forced to choose one to have dinner with, then that would be Mr Fetch himself :) I've chatted to him briefly at the Big Fetch Mile, and would love to have a good long chat about this site, the goings-on (aka the gossip, hehe), how it started and how it's progressed. He's a very nice man, a lot younger than some expect (I name no Fetchies ;)) and I think he'd be very interesting company for dinner :) Non Fetchie runner to have dinner with, most probably Haile Gerbreselassie - it's that big warm smile ! There may be greater/faster runners, new pretenders to the 'throne' and so on, but I think he would be such a good laugh, full of interesting stories, and I'd be grinning all dinner, that smile is so infectious ! :) Oh and he's a fellow shortie, we have so much in common really ;)
A bet MADE me asks: well deserved McN - I thoroughly appreciated your openness and the time you took to answer many questions during Ramadan My question: Where in the World would you like to DO a marathon - from the North Pole to the South Pole... where?
McNewbie says: Thanks ABME :) I answered earlier that I would love to do the Disney Marathon, but this is a 'where', so I get to choose another one, yay! There are so many places in the world that appeal to me, marathon-wise. To pick one, I would like to do one in Kashmir, where my family tree traces back to, I would find that a very spiritual and emotional experience. There are parts of that (unfortunately troubled) region that are supposed to be the most beautiful on earth and it would be a fantastic experience to race there one day.
SherryB asks: Am I too late to ask? What's your favourite ice cream flavour?
McNewbie says: Not too late, Sherry! Sheesh, that's a tough one, it really depends on the mood I'm in. Currently, I'm very partial to Ben&Jerry's Cookie Dough ice cream ! I like most flavours, only two I can't abide by are mint flavour and chocolate. Never had a chocolate ice cream that satisfied my tastebuds but if anyone can persuade me otherwise, feel free to try !
Chromey asks: Do you think MicknPhil's attitude is wholly inappropriate towards an 'adoptive daughter' ;-)
McNewbie says: Much as I adore my 'Fetch parents', it sucks that I can't ask them for pocket money ;) Mick and 'inappropriate' go together like Fetch and running, there's just no fun if they're not together ! ;)