Becoming The Iron You
An analysis of training volume for long distance triathletes
Back in May, I spent a fascinating week in the company of the iron men and ladies at Club La Santa, watching them prepare for Ironman® Lanzarote. We volunteered on the day - and spent six surreal hours in T2, rubbing sun cream into triathletes who had just finished biking. After hours of exertion in the hot sun, there were lots of very weary people, with nothing between them and rest, except for the small matter of a 26.2 mile run.
Quite amazingly, it didn't put me off the idea of triathlon - indeed, I came away with the crazy notion of a five year plan to get myself to the point where I too could become a 'long distance triathlete'. It feels far enough away that I might be able to bend reality sufficiently by then to make it physically possible.
The obviously huge consideration is the amount of training needed in order to stand a chance of making it through the day if not unscathed, then with as little scathing as possible. Although most competitors looked a bit tired, there was very little outwardly-expressed doubt as they fuelled up, changed socks, and took a moment to contemplate what lay ahead.
One of the benefits of being the editor of Fetcheveryone is the chance to mine for patterns in thousands of race and training experiences. Now obviously, doing a full distance triathlon is not everyone's cup of tea (I'm gonna need some sugar in mine, and plenty of brandy), but there have been 384 brave attempts recorded on the site over the last dozen years. And of these, 194 are accompanied by a full record of everything that happened in training during the 12 months before the race.
The first thing to ask is "how much training is involved?" - so you can work out whether it's a feasible thing to fit into your life. The result from our triathletes, looking at the average for the entire year is an almost-amazingly neat one hour per day (1h2mins if you must know, or 378 hours in the year). Of course, there's a lot of variation - but 80% of our sample trained between 40 and 94 minutes a day - so an hour seems a fair compromise.
As we've noticed when looking at running, there's a correlation between training volume and outcome. Despite plenty of variation amongst individuals, grouping athletes by their finishing time tends to group them around a training volume too. The sub-13 ironfolks tend to exceed the hour a day average, and the sub-14 crew fall just short.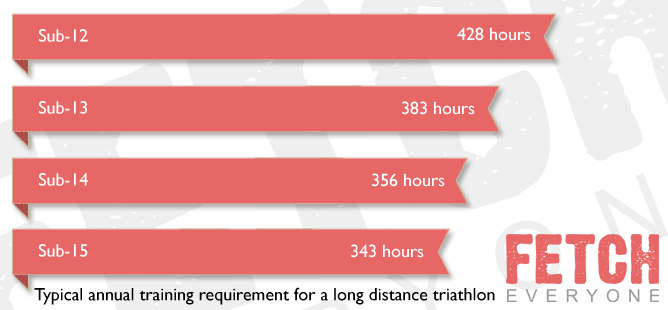 If you're a pure-play runner who trains at nine minutes a mile, 378 hours would make for a 2,500 mile year, which would put you in rare company indeed (less than a hundred Fetchies in 2015). That sounds pretty tough, but the saving grace for sore knees is that swimming and biking take up a good share of that time. How much? Here's the breakdown in percentage terms, along with some figures for a middle-of-the-pack athlete: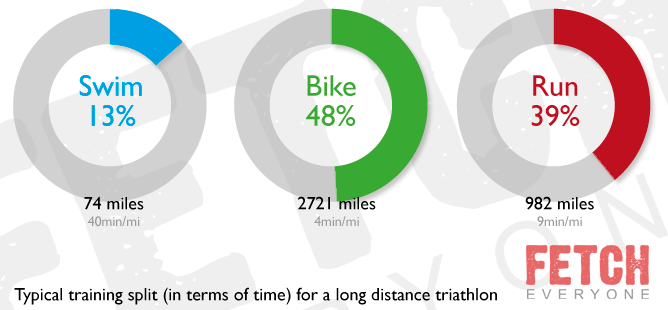 So the typical running requirement is a slightly more manageable 982 miles, if you're willing to pay for it by cycling 2721 miles and swimming 74! Only two triathletes put swimming first. Biking was the most time-consuming, with 131 athletes giving it top billing on their schedules.
Here's a diagram showing how lava formed the island of Lanzarote - or alternatively, it shows all our triathletes, ordered by overall training time from least to most. About 10% get by with less than 300 hours, and at the other end, some are willing to put in well over 500 hours.

Despite the very real possibility that long distance triathletes might be hovering on the edge of insanity, they are not crazy enough to go out and do exactly one hour every day, for the entire year. Even the most rudimentary training plan involves some sort of build up, with a bit of a cutback before the race to help ensure you're itching for it. By splitting the year into 13 four-week blocks, I was able to look at the percentage of training in each, to see the shape of the training year:

One thing we know about triathlon is that it's quite a seasonal sport. Of all the long distance triathlons listed on Fetcheveryone, 84% of them are between June and September. So the shape of the first part of this graph could be a reflection of the triathlon 'season', when most athletes will be competing regularly in the summer months. But then we see a steady build up from about 40 weeks out, with a peak in the penultimate four week period. This peak contributes 11.1% of all the training - and if we plug that figure back into what we found earlier, our mid-pack athlete will peak with a four week block of 42 hours of training. Using the same exchange rates as earlier, that's roughly 8 miles in the water, 300 on the bike, and 110 on foot.
Even the gentler end of that graph, with 5.4% of the training volume, means that the flatlands of ironman training are 20 hour months - and right now, that still feels like more of a mountain. Sure, I've put in a few in the last dozen years - but they are anything but normal. Clearly, there's some way to go - but it's nice to get a flavour of what lies ahead!
If you enjoyed reading this, please leave your comments and suggestions below. It would also be a great help if you could use the social media buttons to share this with your homies.
If you enjoyed this article, please share it with your friends: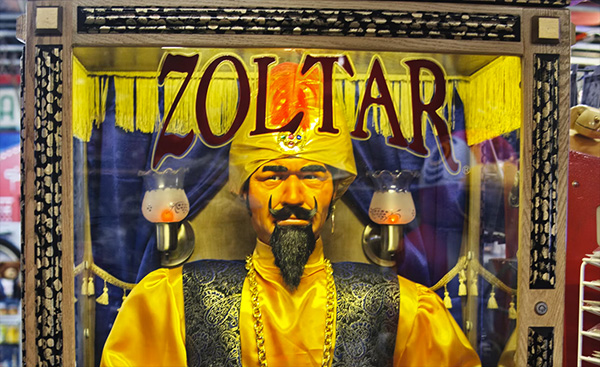 Marathon Prediction
We delve deeper to give you greater insights when working out your goal marathon time.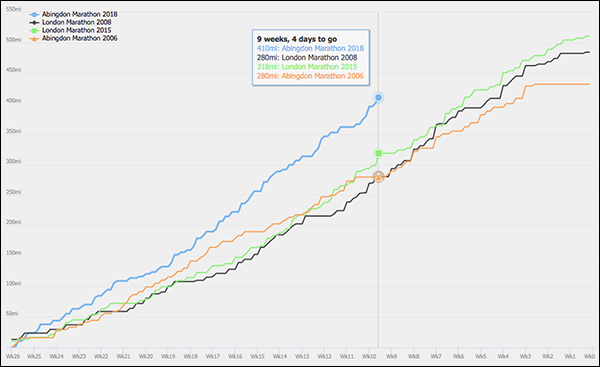 Pre-race Training Analysis
See your accumulated mileage in the weeks leading up to any event in your portfolio, and compare it to your other performances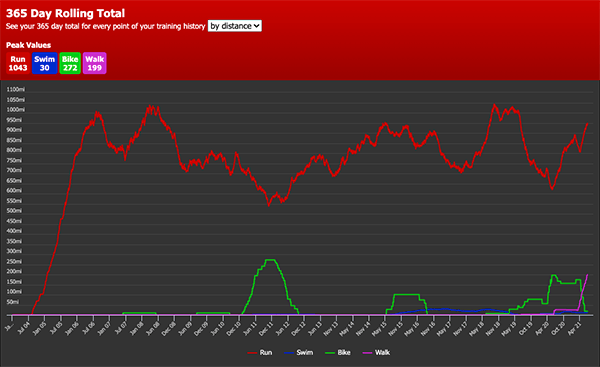 Your 365 Day Totals
Peaks and troughs in training aren't easy to find. Unless you use this graph. Find out what your peak training volume really is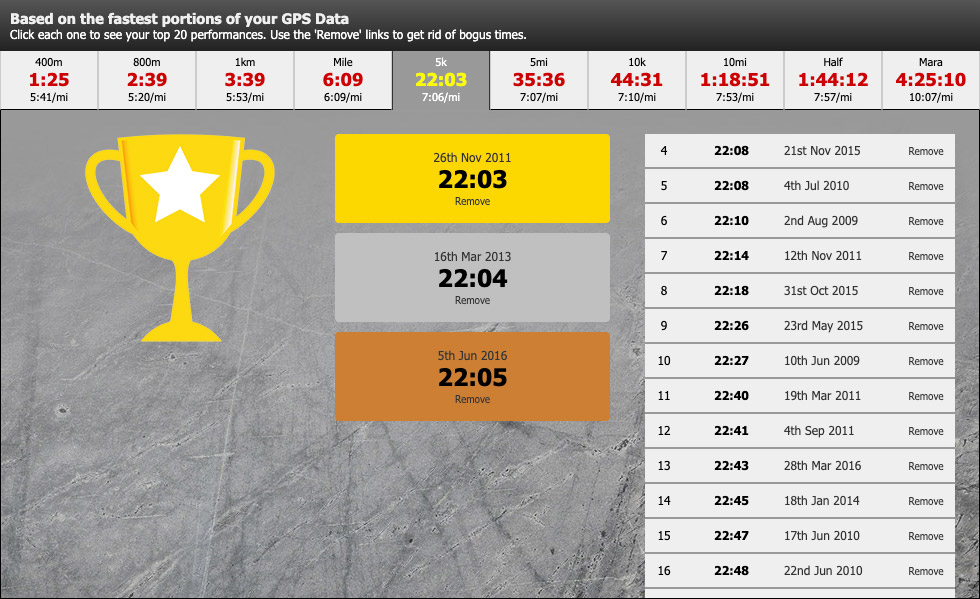 Benchmarks
See the fastest portions from all your training runs. Filter by time to give you recent bests to aim at. Every distance from 400m to marathon.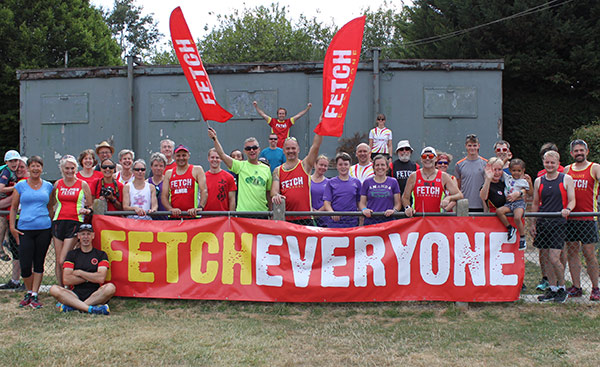 Fetch Everyone Running Club
Join our UKA-affiliated club for event discounts, London Marathon ballot places, the chance to get funded for coaching qualifications, and a warm feeling inside.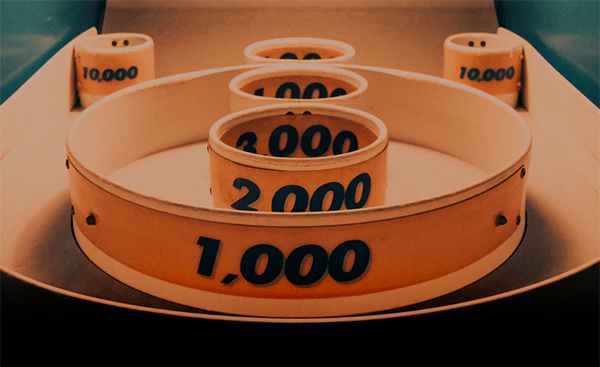 Annual Distance Targets
Set your run, bike, swim and walk goals and monitor your progress against your friends.