Big Fetch Mile - Cardiff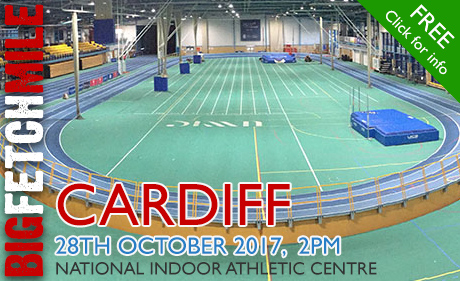 We are hosting a free timed mile at the National Indoor Athletic Centre at Cardiff Metropolitan University from 2pm on October 28th 2017, to encourage runners and non-runners to get together to run a mile, and share some cake!
We've been to various places around the UK during 2017, to celebrate our launch as an independent company. Our aim is to include everyone – our oldest competitor so far this year was 74, and our mile times range from 13 minutes right down to our current mile record of 5:14. The emphasis is on celebrating everyone's best efforts (and did we mention the cake?)
How To Enter
It's simple, and completely free. Just click the big green button below, and enter your estimated mile time. All our competitors are organised into heats, so you get to run with people who are of a similar standard.
If Cardiff is a bit too far to travel, don't worry! We'll be travelling to various venues around the UK over the coming year - so leave a comment if there's somewhere you'd like us to pitch up in future.
Fetcheveryone is a free website for everyone to use, with tools for logging training and tracking progress; a huge searchable list of races around the UK; and most importantly, a supportive community who understand that running is a simple sport that leaps gracefully over all manner of social boundaries. It is independently owned, and funded largely through voluntary donations from happy users.
Please help the site by sharing:
Please help the site by sharing: