Don't let setbacks obscure success
Just keep moving forward!
This weekend, a good friend of mine will run her first marathon. It's a wonderful achievement for any athlete but it is unlikely to be the experience she imagined when she decided to enter it.
When she entered this marathon, she was fresh off the back of a half marathon personal best, running around 1:45 on a fairly challenging course, and full of positivity and determination. For her, a marathon seemed like the obvious next step. The next step in a long journey. When she first joined the running club nearly two years previously she was only able to run for a couple of minutes at a time, and was 50lbs heavier. Now, she helps run the club and has helped inspire a great number of others, not just to run, but to enjoy running.
With the marathon entered, she trained, and she trained hard. In all weather, building that ever-important long run up past 13, 15, 16 and 17 miles. Then she picked up a knee injury which hampered the 18 mile run. Not one to accept defeat she adjusted her training, including walk breaks to minimise the stress on the knee and eventually tackled the longest training run of 20miles.
Her knee developed a lot of pain and trips to the physio brought instructions to rest totally. Three weeks later with the big day rapidly approaching, she was worried, feeling like she had to complete the race having raised a few hundred pounds for charity. We found a compromise, and she has changed all her plans to include even more bouts of walking and to run at a sensible speed and respect what her body is telling her.
The hardest part of marathon training is undoubtedly the training - the relentless drain on your time and energy if you let it, the need to watch what you eat, get plenty of sleep, fit in three hour (and sometimes longer) runs, and somehow do your job and raise a family.
By the time you're on the start line, the only thing you have to do is keep going forward - do that and you will finish. It may not be as quickly as you want, but you will do it.
Whatever the outcome I hope my friend will recognise the huge changes she has made in her life and therefore the success she has already gained. The organisation, determination, focus and dedication required to get to the start line have inspired others, improved her health and totally transformed her appearance. By recognising just how far she has come, hopefully it won't seem quite so far to go on the day and she can try to enjoy the feeling of what she is achieving without the pressure of arbitrary time goals.
How many of you have ever lost a stone or so and then beat yourself up because you put one pound back on? All too often I hear people focus on that one awful pound that has blighted their life, and not on the great achievement of the other 13 pounds.
So if you're bemoaning a recent setback, or plateau in your training, remember what you have already achieved and the skills you used to achieve it. Then use those skills to adjust what you're doing if necessary, and just... keep... moving... forward!
If you enjoyed this article, please share it with your friends:


Pictured above is Rwandan mountain biker Adrien Niyonshuti. Despite struggling in the race, he stuck to his task, finishing 39th out of 42 finishers in a field of 50, at the Men's Olympic mountain biking. Thanks to *Anj* for the picture.
Lumsdoni aka Pete Luxford is a Personal Trainer working in the Letchworth, Baldock, Hitchin, Stotfold and Biggleswade area - he's been running for 7 years. He strongly believes that everyone can run, but that many of us don't know how to start. He's dedicated to making everyone feel welcome, regardless of ability... find him at
www.peteluxford.com
Lums' friend is
Soggous
and I'm pleased to say she finished her marathon in 4hrs58. She took things steady with 12/13-min miles until mile 21, then ran the last five miles in 55 minutes! Congratulations Soggous on your first marathon -
read her marathon blog here.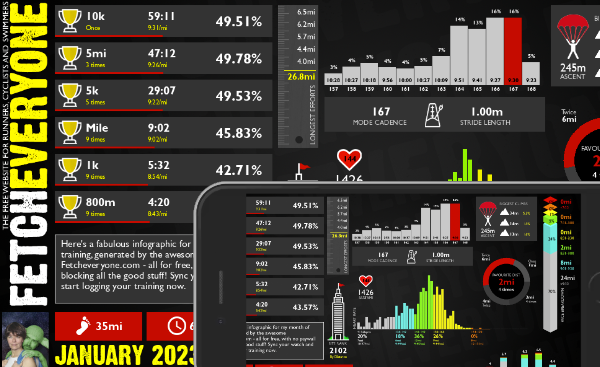 Monthly Summary
A brand new shareable infographic showing a colourful breakdown of your training month.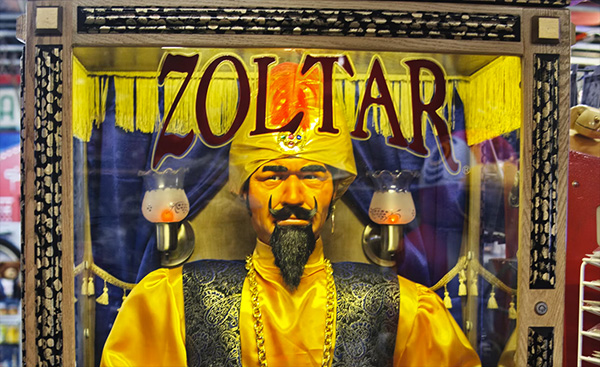 Marathon Prediction
We delve deeper to give you greater insights when working out your goal marathon time.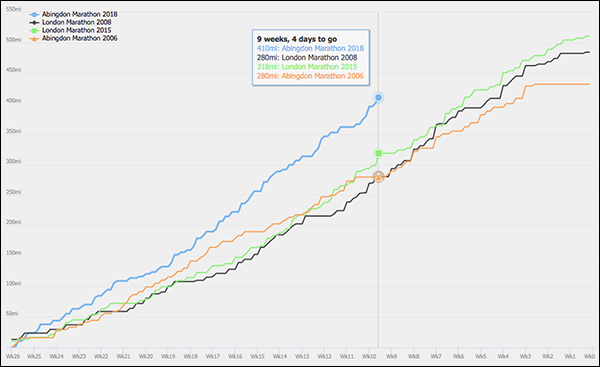 Pre-race Training Analysis
See your accumulated mileage in the weeks leading up to any event in your portfolio, and compare it to your other performances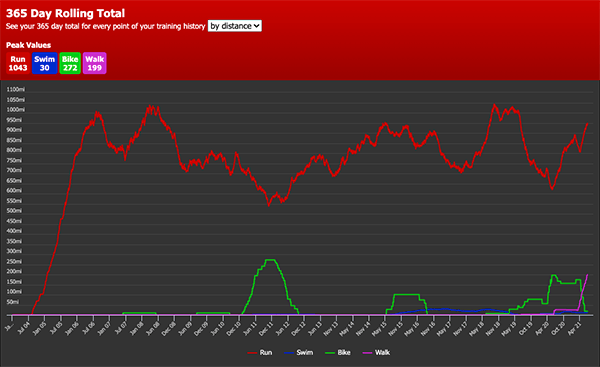 Your 365 Day Totals
Peaks and troughs in training aren't easy to find. Unless you use this graph. Find out what your peak training volume really is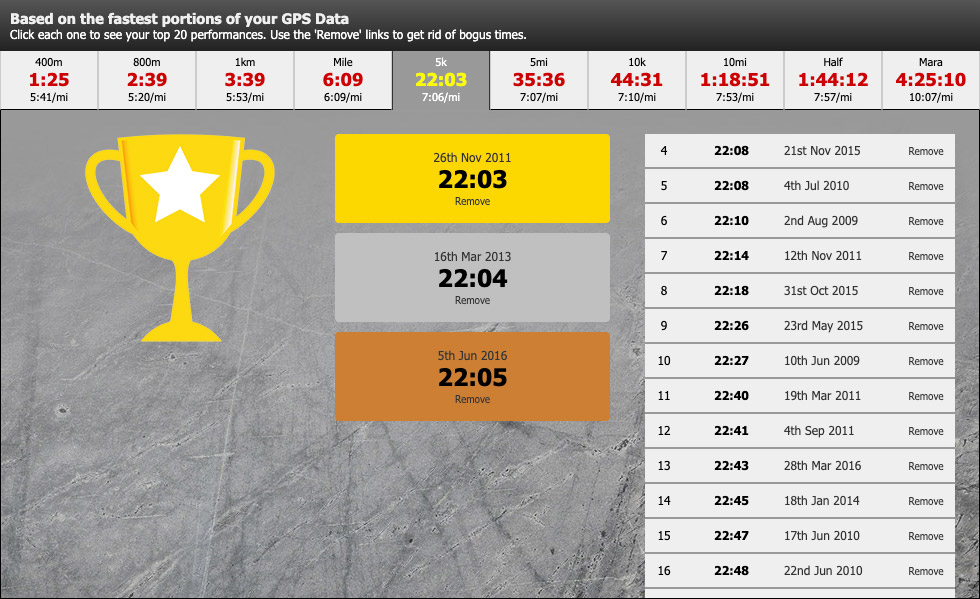 Benchmarks
See the fastest portions from all your training runs. Filter by time to give you recent bests to aim at. Every distance from 400m to marathon.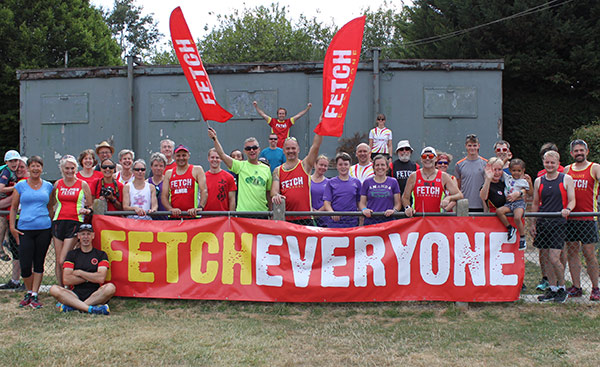 Fetch Everyone Running Club
Join our UKA-affiliated club for event discounts, London Marathon ballot places, the chance to get funded for coaching qualifications, and a warm feeling inside.