fetcheveryone - Blog

Add blogger to your favourites
|
See list
Two things



1) We need more people to join us at London Marathon

Fetchpoint

. We are getting a new enormous banner, and we'd love to put together a tribe of supporters to make some noise for our Fetch runners. Katie and I will be there from the very start to the very end - so you won't get asked to do anything too onerous - just come and be epic for as long as you can spare. If you can join us for some or all of the day, PLEASE join this group for updates: Link (roll over me to see where I go)

2) I'm tempted to get in another batch of hoodies - but it only makes sense if there are enough people who want them. There are two colours - fire red, and storm grey (see the pics below). They'd be between £30-35, and I'd be looking at doing a pre-order, with a delivery time of about 2 weeks. I need to get a minimum of 20 orders to make it financially plausible. If you're interested, leave me a comment.


Click here to suggest this blog for today's highlights.
Hands up, hands UP! Draycote Water 10
Well that was ace



I bundled The Boy into the car at about 8.20 yesterday morning, and we made our way to Draycote Water, listening to some Skrillex and eating Tangfastics. We were armed with a gazebo (which never made it out of the car - way too windy), a giant bag of jelly babies, some emergency custard creams, and two fetch flag backpacks



After an argument with the parking machine, we hotfooted it up to the runners village, but not quite in time to catch the Fetch photoshoot: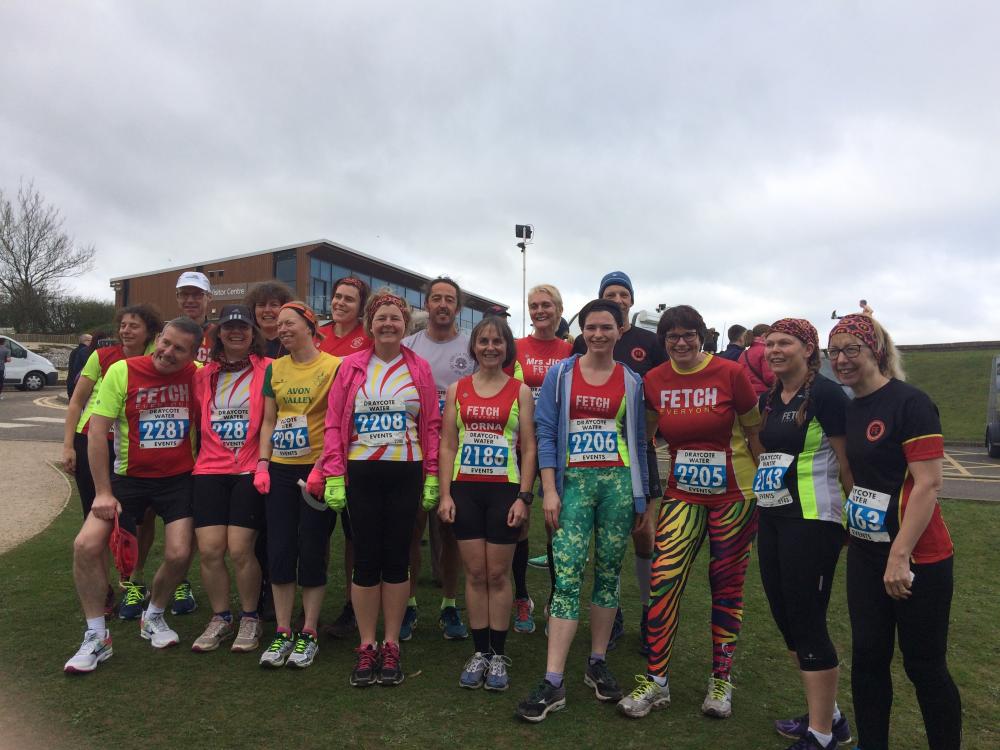 We found eL Bee! and Sarahwoo, and The Boy had a conversation with a lady who looked like the mayor of somewhere - although we never quite cleared that up



The race starts about a quarter of a mile away, so you get to see a cloud of runners moving towards you, until eventually they are swarming all around you. I gave the camera to The Boy, and to his credit, he managed to get pics of most Fetchies, although we had it on sport mode, so I had about 380 to choose from! I've not published the fabulous pic of the ambulance man smoking a rollup

I picked out 30-or-so good 'uns, and have put them in an album on faceplant:

Link (roll over me to see where I go)

Once the runners had gone through, The Boy and I went and leafleted some cars (home made leaflets), then returned just in time to see the second lappers whizzing past. Our mini-

Fetchpoint

(Bee, Woo, Boy, Me) discussed the relative difficulty of using custard creams as race fuel, and experimented on the runners to see who would try them. I'm pleased to report that we did eventually get some customers, and not before we'd eaten them all ourselves.

After seeing the majority of first lappers come through, we walked back through the finish, just in time to see Jigs pull off a fantastic 4th place in 1:04, and then The Boy and I walked back along the course, and cheered the rest of the runners in, led by first lady Mrs Jigs

We felt really sorry for everyone battling the wind - it really was doing its best to spoil the fun - but there were still lots of smiles, as the photos show. There was a man with a megaphone at the finish line, yelling at everyone: "Hands up, hands UP!" to ensure the best photo opportunities. Every time two runners approached the line at the same time, he would demand that they "make a race of it"; and my favourite bit of all was when he was yelling: "Smile! SMILE!! SMILE!!!!!" at people.

Lol

. Some people didn't need prompting to act up:




After some sterling work with the camera and the jelly babies, The Boy was wilting a bit, so after cheering Lady Sol home (and V'rap donating her Haribo), we made an early break for the Dun Cow, and sat in the relative warmth of the car, doing a bit of maths homework



When we tired of fractions, we went into the pub for a coffee and a J2O, and soon we were surrounded once again by Fetchies

It was nice to meet some new faces, and to see some familiar ones too. Looking forward to the next get-together already. Hands up, hands UP!


Click here to suggest this blog for today's highlights.
Is now live...

Link (roll over me to see where I go)

Get your pens / pencils / quills / crayons / sticks with ash on the end / soggy ends of detached limbs / morse code / typewriters / the medium of dance / semaphore / bonfire / charades / violence out and start working on communicating your earliest memories. Or just do a blog titled 'My First Memories of Running'.
Click here to suggest this blog for today's highlights.
When Katie and I have got Bath Half out of the way (this weekend), we're planning on doing a bit of speed work, to improve our 5k times. The idea is to benchmark our current times, and then spend 10 weeks following a plan, and see where we can get to. Here's roughly what I have in mind:

1) our plan is based on limited time for training, so we have three sessions per week: a long run, an interval session, and a threshold /

tempo run

. The paces for all these will be calculated off our current 5k times.

2) In the ten weeks, we have six jokers (two for each type of run), to allow for life to get in the way, and to allow some easier weeks in the programme.

Now I had it in mind to invite anyone and everyone to get involved in the experiment, but obviously there have to be some caveats:

1) obviously, anyone with any medical conditions or injuries, or an itchy litigation finger should avoid this, or should seek the advice of a qualified coach (which I am not). Caveat emptor.
2) if you haven't been running at least three times a week for some time, you should also avoid.
3) if you haven't reached a plateau with your 5k time, then you don't need to be doing this.
4) if you're in any way not used to doing speedwork, you should not try introducing two sessions a week.

Anything else? Any suggestions?
Click here to suggest this blog for today's highlights.
More route plotting updates...

Link (roll over me to see where I go)

When you plot a route now, you'll see brand new little yellow plus symbols along the line. You can drag these in case you want to adjust part of the route midway through building it



Oh, and I'm really not suggesting anyone is a minion (except perhaps me), but I saw this the other day, and it felt incredibly familiar

Click here to suggest this blog for today's highlights.
Running Awards shortlisted
I thought this was all over a while back, but apparently we've been shortlisted by The 2017 Running Awards for best online community.

If you can spare a minute, please vote and pester your friends to do likewise, you lovely people. It would be both lovely and funny to win it this year



Link (roll over me to see where I go)

Peace out

Click here to suggest this blog for today's highlights.
Route Plotter now with OpenStreetMap
If you take a look here:

Link (roll over me to see where I go)

you'll see a new button top-left, that says "Gmaps" (Google Maps). If you click that, it changes to OSM, which stands for Open Street Map - a fantastic community-driven mapping project that in many cases offers a richer experience that's not always available via Google Maps. Like Wikipedia, but for maps.




If you leave 'Follow Roads' switched on, then the lookup service is still Google - so it might not spot paths that are on Open Street Map. But if you switch Follow Roads off, then you can click your way along those undocumented paths. And you can flip back and fore as much as you like.

The other new feature to point you at is controlled by the distance button (to the left of 'Undo'). The units *should* default to whatever you've selected as your favourite units (miles or km), but if you click the distance button, it will switch to the opposite unit, and the distance markers will also update too.
Click here to suggest this blog for today's highlights.
Quick blog, as I am waiting for my accountant


I had an idea for the Bluffer's blog theme. How about: "my first memories of running"?
Click here to suggest this blog for today's highlights.
Here's the old route plotter:

Link (roll over me to see where I go)

and here's the new one I've been working on:

Link (roll over me to see where I go)

I'll replace the old one when I'm pretty confident that I've ironed out any wrinkles.

Here's the side-by-side of the desktop view:




(Because both images were pretty wide to begin with, you might have to squint a bit)

The changes:

1) Big red box at the top has been squished down
2) All the buttons have been tidied up, and laid over the top of the map
3) The map is way bigger
4) Use the 'Save' button to pop up the save form.

This is just a tidy, rather than creating a great deal of new functionality - but I do have stuff in mind - particularly to do with using this as a route editing, rather than just a route creating tool. There's nothing worse than plotting 26.1 miles, and spotting a 0.1 that you could add in somewhere near the start. Unless you count running it



Give the new version a try, and see if it's working well for you. If you're mobile, you should find the experience to be an improvement too.
Click here to suggest this blog for today's highlights.
First update to the route mapper
Click here to suggest this blog for today's highlights.