Most Popular Shoes 2018
Find out which brands came out on top, and which models were most popular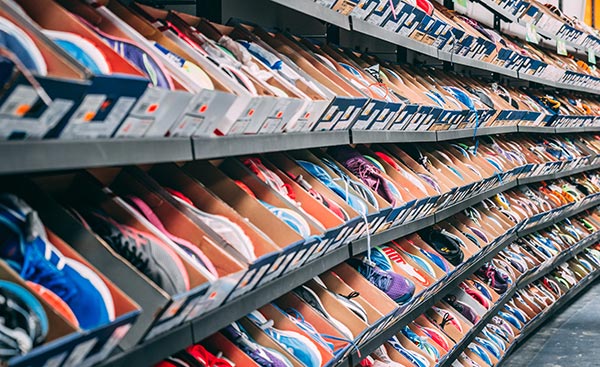 We've put together the ten most popular shoe brands and our top fifty shoe models of 2018, based on data from the Fetch Kit Bag. Are your daps in our list?
10. Salomon
Holding firm in tenth place for the last four years, Salomon pick up 3% of the market, and hold off competition from on, altra, Puma and Kalenji. The Salomon Speedcross is by far their most popular model. Keep reading to find out where it places in our top fifty shoe models.
9. inov-8
Dropping a place from last year, and down from a giddy 7th at their peak in 2016, inov-8 are still comfortably above Salomon, with 6% of Fetchies owning a pair. Roclites are hugely popular, but their combined road shoe variants are second, suggesting a popularity beyond the mud, rocks and trails that gave these shoes their rugged reputation.
8. New Balance
A minor resurgence for New Balance this year, trading places with inov-8, but still a little short of the 7th place they achieved in 2013. They account for just under 7% of the Fetch market. The most popular model is the 1080, followed by the 860. New Balance are fans of numbering their shoe models using a scheme I've never quite understood, so it's nice to see them hopefully breaking away from that with the Zante as their next most popular.
7. Mizuno
A fall of one place from previous years, Mizuno are the shoe of choice for just over 7% of Fetchies. Their naming scheme seems to be very mystical, with the Wave Inspire and Wave Rider by far the most popular models, with the Wave Ultima and Wave Alchemy conjuring up images of undersea wizardry.
6. Hoka One One
The only brand to break into the top ten in the last six years, Hoka One One ousted Vivobarefoot to take the tenth spot in 2013, and continue to pick off the competition. Rising to sixth this year with over 9% of our audience owning a pair. The most popular variant is the Clifton, followed by the Challenger and Speedgoat. Naming a shoe after a goat is a classy thing to do.
5. Adidas
Enter the first of the household name brands - Adidas have had a bit of a quiet time in 2018, falling from a high of 3rd, and dropping below 10% of the Fetch market share for the first time. Their galactic Ultraboost and Supernova models lead the way, followed by the Adizero Adios. Rumours of the Adizero Toodle-pip are as yet unconfirmed.
4. Nike
Another titan in the sports brand world, Nike have had a decent year, climbing one spot from 5th, and taking their share back above 10% for the first time since 2015. Nike seem keen to cram lots of brand info into their shoe names, with the quad-barrelled Nike Air Zoom Pegasus their top performer. But naming your shoes after a flying horse is a good move.
3. Saucony
Another very consistent showing for Saucony, who have hit 12% of Fetch market share every year since our kit bag held its first sweaty pair! The drop in share from Adidas helps them move up from fourth to third this year. With a much more straightforward naming scheme, the Guide is the most popular model, followed by Ride and Triumph - yet perhaps because they have seven shoes in our top 50 models, they don't make the top 10.
2. Brooks
Second place since forever, Brooks have been steadily increasing their share, serving more than 15% of Fetchies this year. A great reputation, but are they always destined to be the bridesmaid? With model names that make me sit on the edge of my seat just by reading them, their most popular variant is the Adrenaline, followed by Ghost, Launch, Glycerin and Ravenna.
1. ASICS
It may not come as a surprise to see ASICS as the gold standard amongst runners. More than one in five Fetchies choose them as their favourite shoe. There are signs that their lead may be nibbled away a little, as their Fetch market share has dropped from 26% in 2012 to just 21% this year. Their most popular models are an interesting mixture of clouds (GEL-Cumulus and GEL-Nimbus), and what sound like cars driven by people with mullets (GT-2000 and GT-1000).
Top 50 Shoe Models
We've also compiled a list of the most popular shoe models, just for fun. Scroll down to see who gets the crown! Click any shoe model to follow our affiliate link to Amazon UK. We get a little kickback from anything you buy on Amazon after following one of our links.
If you enjoyed this article, please share it with your friends:


About The Fetch Kit Bag
Track mileage on your shoes, bike tyres, bra, hamster – absolutely any bit of kit that you rely on.
Set default kit for each type of training, and get reminders when you reach a particular mileage.
As stuff gets old, the protection and resilience it provides will start to diminish – and if you start to pick up more aches, injuries, punctures or issues, it's useful to be aware when this starts to happen.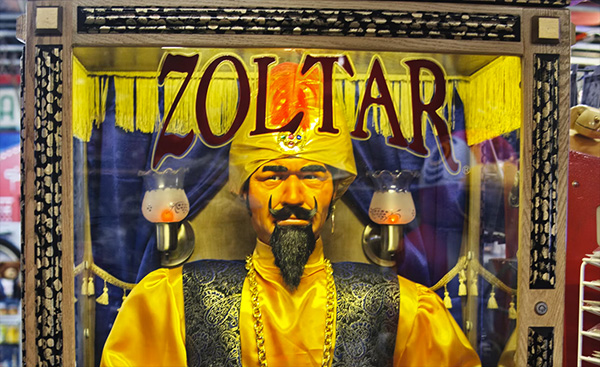 Marathon Prediction
We delve deeper to give you greater insights when working out your goal marathon time.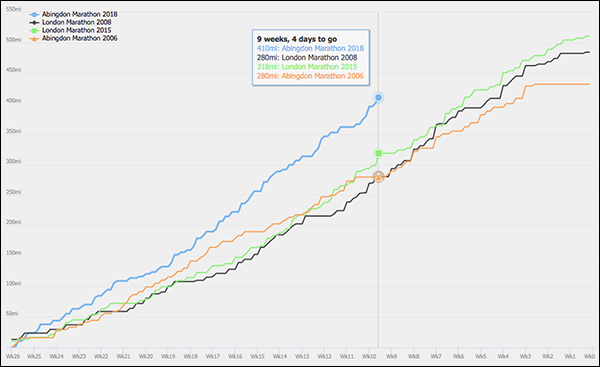 Pre-race Training Analysis
See your accumulated mileage in the weeks leading up to any event in your portfolio, and compare it to your other performances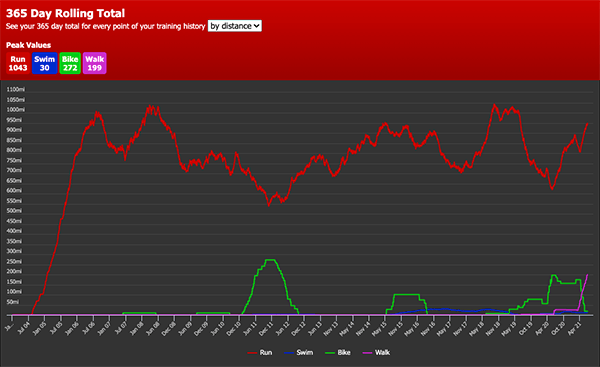 Your 365 Day Totals
Peaks and troughs in training aren't easy to find. Unless you use this graph. Find out what your peak training volume really is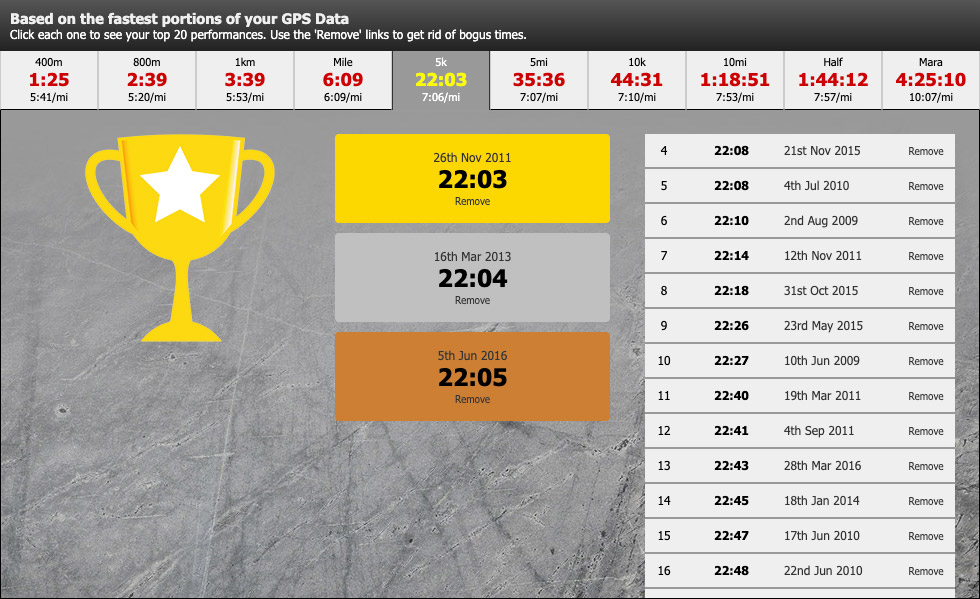 Benchmarks
See the fastest portions from all your training runs. Filter by time to give you recent bests to aim at. Every distance from 400m to marathon.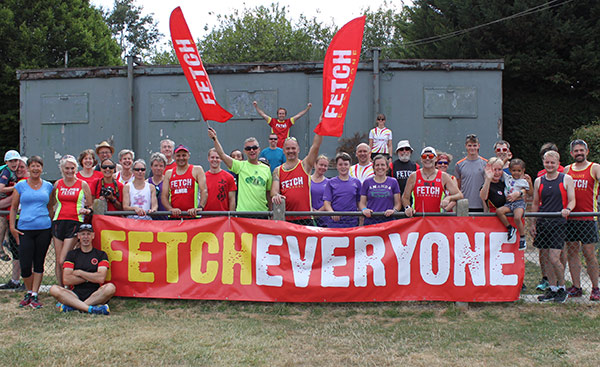 Fetch Everyone Running Club
Join our UKA-affiliated club for event discounts, London Marathon ballot places, the chance to get funded for coaching qualifications, and a warm feeling inside.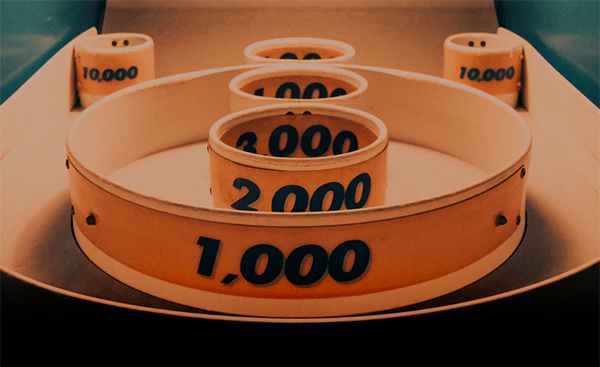 Annual Distance Targets
Set your run, bike, swim and walk goals and monitor your progress against your friends.