Sports Massage
Does it hurt when I do this?
My wife is a physiotherapist and a sports massage therapist - and I know she's good at her job because more often than not, she returns from her treatment room wearing her "I just made someone better" smile. She also teaches at the North London School of Sports Massage and so, by extension, I know quite a few sports massage therapists. I wanted to understand a bit more about what's involved, and given its reputation for being painful, why I rarely hear screaming coming from the treatment room.
I caught up with Susan Findlay, director of the school, and asked her what sports massage can do for runners. She said:
"More often than not the first time I encounter a runner is when they are injured. It's not ideal but it means that the runner is keen to understand how to recover and avoid injury in future. So it's a great opportunity to talk through how incorporating massage into a training regime can decrease the likelihood of injury and therefore improve performance.
"One of my now long standing clients would typically suffer at least one injury per season and would therefore be forced to take his training back to a rehab state. This would often put him behind at least six weeks, and prevent him from reaching his optimum performance level at the right time. By arranging regular appointments, we were able to address any muscles imbalances, restrictions and tensions stopping minor niggles from developing into bigger problems. Sports massage is as much about preventing injuries as it is about recovering from them."
So what does sports and remedial massage involve?
"In technical terms, massage therapy can be defined as the manipulation of soft tissues for the purpose of producing physiological effects on the vascular, muscular or nervous systems of the body.
"Sports and remedial massage uses Swedish techniques such as effleurage and pettrisage alongside more advanced approaches like Muscle Energy Techniques, Soft Tissue Release and Neuromuscular techniques to name but a few. Their intention is to focus on specific muscular tension and adhesive qualities within the tissue and to address any dysfunction.
"A therapist will assess the body as a whole, because although you might feel discomfort in a particular part of your body, the root cause of the problem might be elsewhere. For example, a sore Achilles tendon might be caused by tight calf muscles - if you don't resolve the cause, the problem will return.
"They also look at any outstanding conditions that might be affecting performance (current and past) and to evaluate the interaction of the various systems. A well-trained therapist does not simply 'push skin' but uses their skills to deliver an intelligent massage that requires good assessment skills and application of remedial techniques."
The big question then - I hear that sports massage really hurts! Is that true?
"Unfortunately sports massage has developed a reputation for being a 'brutal' form of soft tissue work. This has come from the 'No Pain, No Gain' maxim. There is an element of pain, but it should not be the type that makes you want to run away screaming, or leaves you with bruises or feeling beaten up or suffering. It should feel good such that you want the therapist to continue working rather than stop.
"You might experience a mild soreness for a brief time the next day but that should not carry on - if it does you have been overcooked. Bear in mind that because everyone is different, it can take a couple of sessions for the therapist to work out how your body responds - so it might be that the first treatment is a little too strong or too mild - but with familiarity will come results that have a more accurate and beneficial outcome."
So if there's not too much pain, how about the gain?
"Science has yet to conclusively prove the benefits of massage. Most of what I give you is anecdotal and from my own experience as a therapist having seen hundreds of clients. The increase in its popularity has been such that is has become a significant part of many athletes' training regimes. And you don't have to be injured or even remotely sporty to benefit - it can be applied equally to helping us maintain wellness for the activities of daily living.
"Some of the performance-related outcomes can include: greater energy, improved flexibility and range of movement; better technique; enhanced performance; pain reduction; faster recovery; and of course, injury prevention.
"Recipients of regular massage gain a greater understanding and awareness of their bodies, using advanced massage techniques to create change in soft tissue to encourage optimal function. Massage helps to encourage the exchange of nutrients and waste products, thereby keeping the tissues healthy."
What should I expect when I go for treatment?
"Your therapist will use a number of approaches to get a full understanding of the issues at hand. These might include a postural or biomechanical assessment, range of motion testing, as well as functional testing. But a therapists' real skill is in palpation, using touch to determine your weaknesses and strengths. They will be looking for any differences, restrictions, adhesions - comparing and evaluating movement.
"The type of treatment technique they apply will be based on their assessment of what your tissues need, and on how your tissues respond to different approaches."
So how often should I have a massage?
"This can be influenced by what condition the tissue is in, your training schedule, your goals, and your current state of health.
"If you've recently been injured, it depends on the degree of damage. Initially it might not be appropriate to have any soft tissue work but rather it might be better to go down the Rest, Ice, Compression and Elevation (RICE) route, along with supportive techniques such as strapping and taping.
"In terms of regular maintenance massage it is more than likely you will benefit from making a monthly appointment. Full-time athletes often have daily treatment, but runners training 5-6 days a week typically see me every three to four weeks for a general overall massage with some fine tuning in between."
If I wasn't able to ask my wife, how would I go about choosing a therapist?
"In all my years as a therapist I think I have had only two people ask me what qualification I hold and where did I train. Most people come by way of word of mouth but if you do not know of a good therapist there are some things to consider.
"It's worth being curious about what qualification someone holds and their experience. It has been shown that trained therapists do get better results.
"A minimum of a BTEC Level 4 professional qualification is important if you are in need of remedial therapy, but in some cases, where the therapist has trained a long time ago, years of experience can be worth their weight in gold.
"To find a local therapist, it's best to go to a professional association like the Sports Massage Association who have a growing register of therapists, or the General Council for Soft tissue Therapies who list a number of other soft tissue therapy associations. "
If you enjoyed this article, please share it with your friends: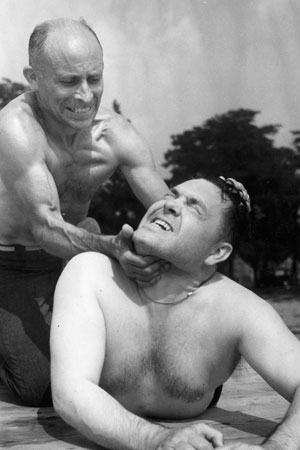 Can you see what's wrong with this image? Yep, a good therapist will always use a treatment couch.
Picture: Getty Images / Three Lions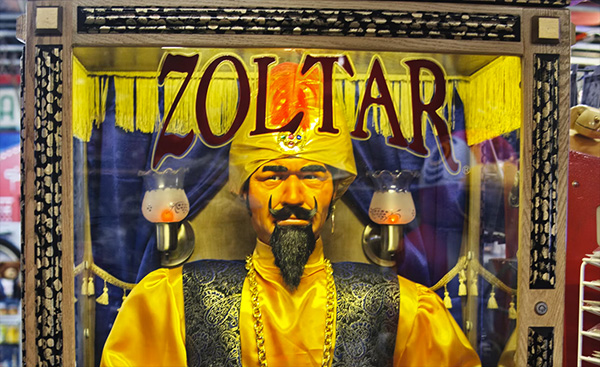 Marathon Prediction
We delve deeper to give you greater insights when working out your goal marathon time.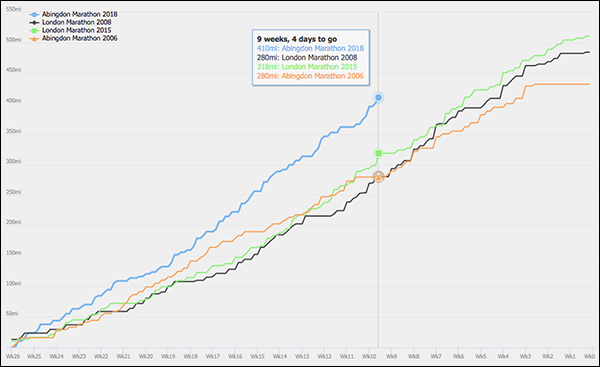 Pre-race Training Analysis
See your accumulated mileage in the weeks leading up to any event in your portfolio, and compare it to your other performances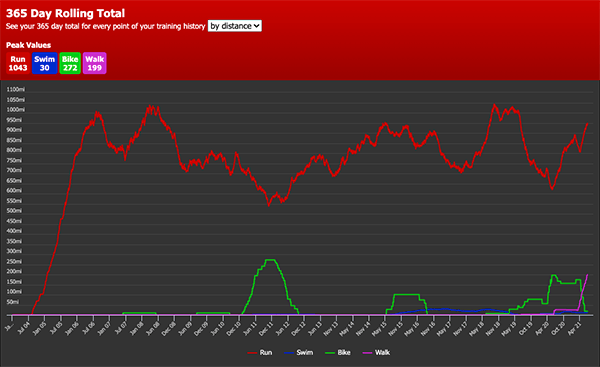 Your 365 Day Totals
Peaks and troughs in training aren't easy to find. Unless you use this graph. Find out what your peak training volume really is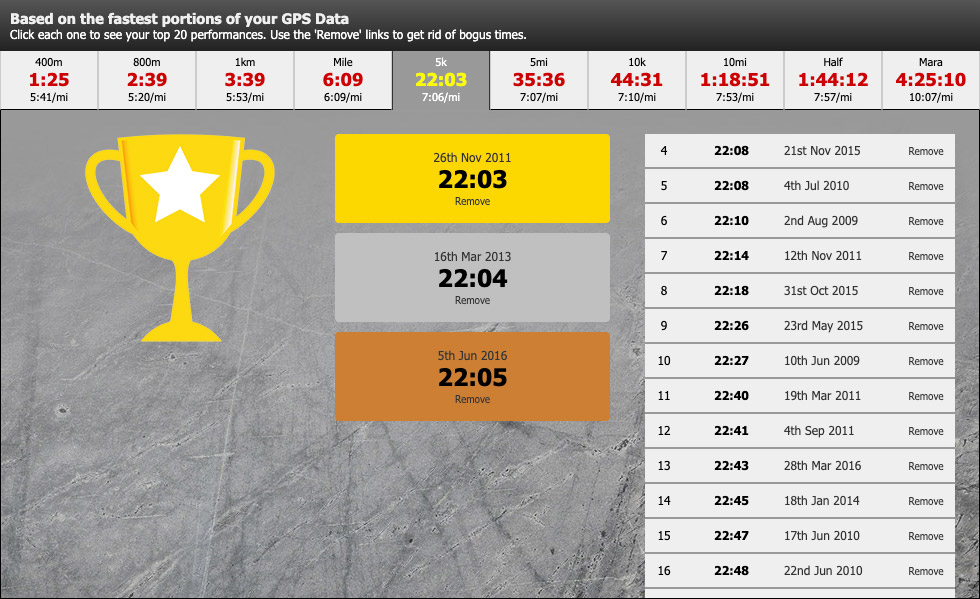 Benchmarks
See the fastest portions from all your training runs. Filter by time to give you recent bests to aim at. Every distance from 400m to marathon.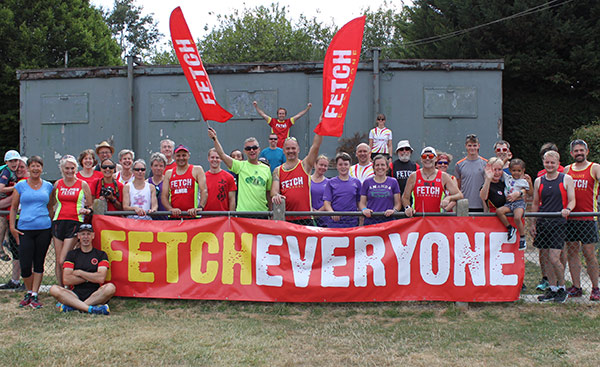 Fetch Everyone Running Club
Join our UKA-affiliated club for event discounts, London Marathon ballot places, the chance to get funded for coaching qualifications, and a warm feeling inside.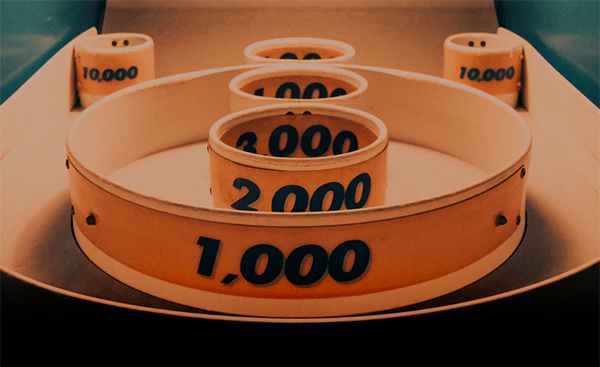 Annual Distance Targets
Set your run, bike, swim and walk goals and monitor your progress against your friends.