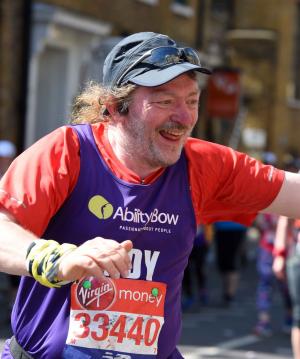 AndyS
M50
About
Race Times
All Races
Mileage
Training

AndyS supports Fetcheveryone!
Find out how here
No clubs listed.
Races

90

Miles

307

Miles

7

Miles

923

WAVA

55.18%

Mile

8:42

5k

27:10

10k

1:01:30

Half

2:25:06

Mara

6:04:13
About Me
Former blob man (150kg , 50 inch waist), now less so (but still fat).
Started Couch-to-5k on July 31st 2015, then went to parkrun in November 2015 - and got hooked.
Started doing longer distances - first 10k, then a half (loved it!), then trained for the 2018 London Marathon ... and the wheels totally came off. I hated the training. 4 months of getting slower and slower, and resenting running. Ran the 2018 VLM (6:04:13) - enjoyed the day immensely, but you won't ever see me training for another one (if I ever get a place, I can walk it in about 7 hours).
So still trying to recapture the enjoyment that running once brought to me, but nothing's working. Marathon training robbed me of all of the pace that I had (and I didn't have much to start with) - but worse, it's also taken away my endurance. Previously, I could go and plod out a half without too much trouble - now, I can't even run 5k without a walk break.
#loveparkun #haterunning
Member of the Month
Is this person training well, or maybe making a great contribution to Fetch?
Nominate them for our monthly award
, and one lucky winner gets £70 of goodies from our lovely sponsor!