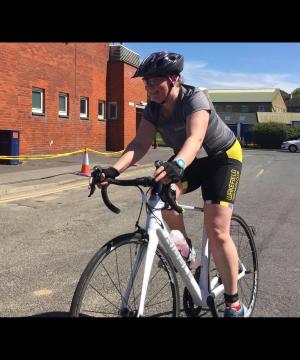 Karen S
F45
About
Race Times
All Races
Mileage
Training
Races

41

Miles

3306

Miles

66

Miles

961

WAVA

56.93%

Mile

8:06

5k

28:12

5M

52:27

10k

55:12

10M

1:36:49

Half

2:11:14

Mara

5:36:45
About Me
Completed my first marathon (Snowdonia) in October 2010! What a fantastic experience - I think I'm hooked now!
I'm also a qualified Iyengar yoga teacher. I run classes at the Rachael Swann School of Dance in Morley 7.45pm - 9.15pm Monday nights. Any "fetchies" interested in complimenting their running with yoga welcome! The classes I teach usually focus on working specific muscle groups and is great for keeping you injury free. See my website for more info on yoga www.mandalayoga.org.uk
Here is my post run yoga routine I've been asked about. Feel free to use - I find this sorts out my legs particualrly after long runs!
docs.google.com
I'm a retired rower, rowed for Oxford in the varsity match against Cambridge in 1992 then came back up north and rowed for Bradford rowing club at Senior II/III and Veteran C levels. Not rowed now for 3 years, very time consuming but might take it up again in future. Running much more time efficient way of keeping fit!
Current Status
Think my mojo is finally back!!
Groups
This user is a member of
1000 in 2011
,
750 miles in 2010
,
Chi Running
,
Chocoholic
,
Conquercise Game
,
Fetch Blood Donors
,
Fetch Yorkshire Mile Six
,
Fetchie Craft Folk
,
FetchPoint Game
,
Fetchy Flab Fighters
,
Friends of Mick n Phil Half Marathon 2012
,
Furman training
,
Garmin 405 Owners
,
Garmin Forerunners
,
GPS Users
,
parkrun
,
Post run yoga routine
,
Project Joker
,
Rowing Targets 2011
,
Sub 2-hour half
,
Swimmers
,
The InBetweeners weight loss group
,
The lets motivate each other to do our strength and core work group
,
The next Yorkshire Mile
,
The next Yorkshire Social
,
UTMOST
,
Yoga for Fetchies
,
Yorkshire (and Lancashire) Off Road Runs
,
Yorkshire Fetchies
,
Yorkshireman 2012
Member of the Month
Is this person training well, or maybe making a great contribution to Fetch?
Nominate them for our monthly award
, and one lucky winner gets £70 of goodies from our lovely sponsor!