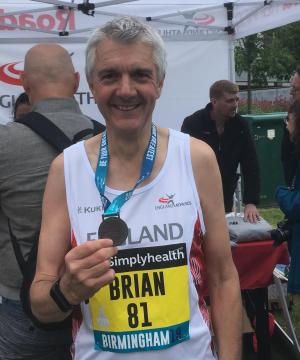 BrianK
M55
About
Race Times
All Races
Mileage
Training

BrianK supports Fetcheveryone!
Find out how here
Races

255

Miles

5724

Miles

24

Miles

895

WAVA

88.76%

Mile

5:25

5k

18:29

5M

30:10

10k

36:39

10M

1:02:50

Half

1:23:53

20M

2:16:53

Mara

2:59:03
About Me
Started running in the 80's, however did not run well, restarted last year (2008) still slow. Then I joined Reading Joggers early 2009 and nearly every run is a pb, what a difference the right training makes, plus the support and advice of experienced runners is invaluable. Really enjoying running for the first time and can see now how it can be addictive.
Update - 2013 - Still running, still getting faster

Update - 2019 - Still running, still getting faster (just) Still enjoying 😜
Race Standard

White-rumped Swift (84)
Current Status
Very Happy With My Running At The Moment

Member of the Month
Is this person training well, or maybe making a great contribution to Fetch?
Nominate them for our monthly award
, and one lucky winner gets £70 of goodies from our lovely sponsor!