Fetch Fixtures
Draycote Water 10, 19th March 2017
PROMOTED CONTENT
Next month, we begin a series of Fetch Fixtures - monthly meet ups around the UK for Fetchies to get together for a run and to share a bit of cake, beer, and linament.
Our first get-together will be at the Draycote Water 10 in Warwickshire on March 19th. It's an all-tarmac two-lap run around the reservoir, masterminded by The Race Organiser. I will be out on the course with Fetch Junior, cheering the runners on (and shouting extra loud at anyone wearing Fetch kit). After the race, we'll be heading over to The Dun Cow in nearby Dunchurch for a bit of grub - and you're more than welcome to join us.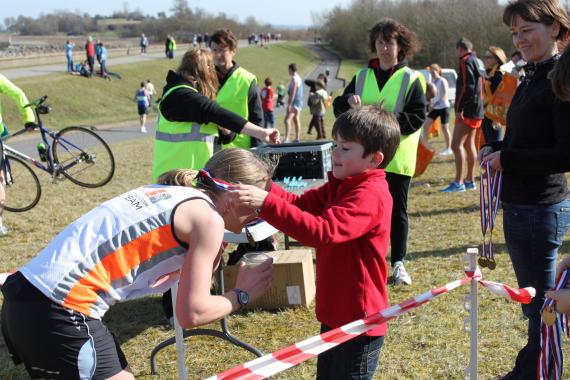 The Boy on medal duty in 2012
I have lovely memories of Draycote Water - we were part of the Friends of Mick'n'Phil Half Marathon there in 2009 and 2012 to raise money for the lads; we got together for a Fetch 10th anniversary run in September 2014; and Katie and I ran in the autumn edition of this race just a few months ago.
Cake at the lake in 2014
We'd love to see as many Fetchies there as possible, so please click the following link to visit The Race Organiser's website to find out more. Our experience is of a well-organised and friendly event, and we came away with a medal, t-shirt and a bag of goodies.

Please help the site by sharing:
Please help the site by sharing:
Specialists in planning, organising, timing and delivering mass participation events, The Race Organiser manage over 100 individual events organised annually in the UK. Here's where to find them: