Latest Training
View More Training

Latest Discussions
Visit the forum

Blog Highlights
View All Blogs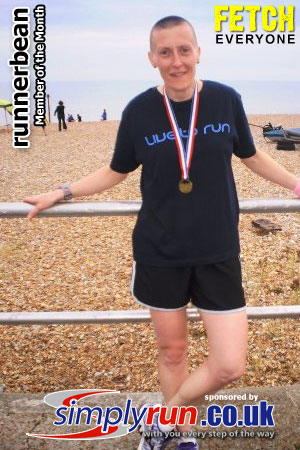 Well done to
runnerbean
for winning our Member of the Month award. Our winners receive £50 to spend with our sponsor,
Red Venom
, suppliers of compression gear at a third of the price of other retailers. They've also given us a special discount code - use
RVFE5
at checkout for 5% off :-)
HappyG(rrr) asks: beanie!! Yay, many congrats. I get to ask the first question too. FetchEveryone - what has it done for you, what does it do for you, what might it still yet do? (or fields, world and stars, as I like to think of the progression...?!) Congrats again.

G
runnerbean says: congrats Happy on getting in with the first question

..Looking back Fetch has made me very sensible and wise.I've learnt to tie my own laces and everything.Srsly though it's given me loads of (ok a few ) new friends (ok ok maybe one new friend)..It's educated me on sensible running (sometimes)..it's picked me up when things were tough, it's made me realise that if others can achieve running stuff then so can i.I love reading blogs and poking about in the gallery, it's almost as if we can peep through the keyhole at other peoples lives isn't it?...i guess i hope in the future i'll learn more of everything from the brains on the site and maybe one day i'll get to a social event (Lord help you all if i do)...
Chicken Licken asks: Well done Beans well deserved MOTM!! What are you going to buy with your prize money? and where's your favourite place to run- also I just wanted to tell you I luff you -

runnerbean says: thanks Chick, the forst thing i am going to buy is a hairband for a ponytail, no not for me silly i'm still very bald but for you

then i'm going to put your hair in said ponytail at the front of your head to hide your face because i luff you heaps and heaps.
Fave place to run...anywhere really apart from that bastard Queensway in the Hastings Half.I quite like the nature reserve, love the mud and the fact the animals all talk to me....maybe if you're good i'll take you there...
Longwayround asks: Congratulations on your MOTM. How do you prefer your beans?
runnerbean says: Fankoo....the only beans i like are baked ones so i quite prefer them cooked.Mind you i can't do the Heinz baked beans it has to be Branston.Sometimes i like to arrange them in special patterns on my toast, i can even spell my name with them.I think i'm actually quite clever now.
runnyeyes asks: A well deserved win RB.

All those months of recurrent injury woes...and now look at your speed and mileage.. What made the difference?
runnerbean says: there's a few people that made MASSIVE differences to my training with their input.IanM constantly sent me videos , oer...with technique changes and stuff but the best thing and the biggest change was going to have a 1:1 with SharonD.Assessing me and changing the problems literally got me running again injury free but she has this amazing way of making you be able to visualise what you need to see to adapt to those changes.Her and Sharkie spent loads of time picking me up and dusting me off when things went wrong (they still do

).Now the speed has come with the fact i am running consistently.
Hills of Death (HOD) asks: Congrats Beanie serious question best Hammers XI of all time
runnerbean says: thanks HOD

....this took some thinking about but i reckon i've got the right team..goalie..got to be Phil Parkes, back 4- Moore, Lampard snr , Bilic and Reid...Midfield-Devonshire , Di Canio (my future husband) ,Parker and Bishop then up front- Peters and Cottee...I still have my Di Canio shirt, i think it's worth more than Messi

RuthB2 asks: Hi, how did you find Fetch initially? and why did you start running?
runnerbean says: Hi Ruth *waves*.I'm not sure how i found fetch in the beginning but it seems a very very long time ago now
i probably discovered it by accident as i'm pretty rubbish with technology and stuff, although i can work my ipod shuffle now.I ran when i was at school, 800, 1500 and x-country but i gave up due to injury , surprise surprise.I came back many many years later to raise some money for 2 kids with cerebal palsy.I ran the hastings half on about 2 months traininand a long run of 5 miles with walk breaks.On the day i ran it in 2.15 anf raised over 10k.I was crippled and didn;t run again for another 4 years lol....
Trin asks: Congratulashuns!

and bout time too


If you could be any animal, what would you be and why?
runnerbean says: *blows kiss* blimey that's a bit hard....er...let me think..ok probably a parrot

they live like forever and they can talk for england

sounds like me doesn't it?..
mushroom asks: Congratulations on MOTM. Do you remember your first time... getting a 'runner's high' - Was it an epiphany, or more of a '..is that it..?'?
runnerbean says: Hi Mushroom...i don't think i do really although i do get that high every time i run now.It's very rare that i don't enjoy a run.I really do look forward to every training session even the ones i hate
they all have a purpose and they all make me smile like the toothpaste ad.
SarahL asks: Congratulations my lovely

why are you called runner bean? Do you like cooking, Delia?! When are you coming to visit? Will you run here? Out of all your funny moments, what's been the funniest? Xxx
runnerbean says: thanks Sarah, my mate once called me Runnerbean when i'd been running in a green top.It's stuck ever since.All my kids at the track call me Bean too lol

I actually hate cooking and it's a wonder i haven't died so far from either food poisoning or starvation.I am really most excellent at making sweet sandwiches or leftover dinners
it's amazing my kids are alive too really.
I may visit next year, i'm giving you plenty of warning now so you can be prepared

i am really going to run all the way up to your palace in my nightie and slippers in the summer.
I reckon my funniest incident was the one with the new mountaineering gloves that i put on and couldn't get off...remember that one? the poor postman heard me yelling through my letterbox and climbed in my conservatory window to undo them. I still see him now and he takes the piss big time.
RichHL asks: Congratulations, RB!

How did you get through your injuries intact? What do you think is the most important thing a runner who can't run can do to recuperate?
runnerbean says: thankyou. Looking back now i am kinda amazed i got through.I cried loads and loads everytime it went wrong and i really did almost just give up but IanM wouldn't let me ( i love Ian ...) I spent shit loads of time riding my bike and i hate it so much now.It's in the basement going rusty and i might even saw it up with a saw or something one day.
If you can't run you HAVE to find something you really really like to do to keep motivated (i liked my bike in the summer), i quite enjoyed aqua jogging, i used to go when the old dears were there, they were so rude
but they made me laugh.I also spent way too much buying running stuff to wear for when i was able to run again but this is important to recuperate..in fact it's the law.
Nywanda asks: Well done Lady MacBean. Favourite nursery rhyme and which character/ line do you most associate yourself with and why?
runnerbean says: Lady MacBean..that has a lovely ring to it doesn't it? *waves royal style*..old mother hubbard i used to find hilarious purely cos the dog got zilch from the cupboard....no idea why that is funny but it is.
I'm a bit like Mr Bean in some ways, the more i try and be sensible the worse i am.I even tried to be normal once.I'm a bit horrible sometimes..like once i was walking down the town and a blind lady was out with a puppy guide dog.She headed for some scaffolding and the dog went under it and she obv didn't .I laughed first then picked her up.I am so going to get struck by lightening for that one.
*Anj* asks: Congrats old bean! Do beans help your running?
runnerbean says: hi Anj, yes they help immensely.I eat beans then i have to run like a gazelle to the loo.I've learned not to have them the night before a run now nor shredded wheat...that stuff is pure evil in a packet.
oldbiddy asks: Hello buttnugget. About bliddy time you won this after all your knee stuff. Now you're flying. Now my question is this, ... As your mother, have I been a good influence on you ????? xx
runnerbean says: omg you're my mother ? *cries* a good influence you ask ? hmmmm i guess you most definetly are.All my good behaviour comes from the fine example you set..not forgetting our antics in the cupboard dancing to Mika doing triple somersaults off the chair

..don;t ever leave me mum....
SharonD asks: Congratulations on MOTM-how many squirrels do you see on your runs?

runnerbean says: morning coach

...that depends you see , if i run on the beach i don't see any as they don;t live there silly...if i close my eyes when i run i don;t see any but if i dress in dark colours and run through the woods i see hundreds and hundreds possibly millions even.I saw 3 on monday but they were dead ones in the road..do they count?
richmac asks: Congratulations on MOTM following on from HOD's question, could you name 15 hammers and their intended uses?
runnerbean says: the only hammer i know properly is the claw hammer..i think it's used for cracking xmas nuts or something similar...i have no idea of the other 14 or even if there are 14 more hammers.....
idio asks: Well done Beanie. Whats your future ambitions for running?
runnerbean says: greetings Idio, i suppose after this year i must be looking to lower all the PBs i've set.I'd love a sub 1.40 HM and a sub 21 5k.Next year i'll go up an age cat

although not as old as Oldbiddy so i'm looking at some records that were set with Hastings AC many moons ago.I reckon i might be able to nick one..
LLL1 asks: well done minger, where do you get your motivation from ???
runnerbean says: Ah my LLL , where you been ugly ? i missed you...okay so motivation? now i can run i don;t really seem to need motivating.Everyday i get up and i want to run, i want to be able to be free and to feel like i can do whatever i set my mind to.When i was coming back from injury and was slow and heavy legged i used to look at Hippos and Mrs Jigs logs and be inspired.Even now i know that if Mrs Jigs can run those amazing times at her advanced age

(she's so gonna kill me for that ) then i believe i can run faster too.The one thing SharonD teaches you in a way that you don't see is belief.It;s not until you actually have that belief that you realise you have it and you got it drawn out silently.Wow i put that in a complete Bean way didn't i ?
Jock Itch asks: Well done tart. Which part of my body would you like for Christmas

runnerbean says: the whole bloody lot ......you hunky piece of bald toffee

Girlie asks: Congratulations on MOTM. If your house was burning to the ground what 3 material possessions would you save from the inferno?
runnerbean says: thanks Girlie, i would most deffo grab my west ham shirt and hat (that counts as one cos i wear them together !! ),my Dallas boxsets and my new googly thingymejig.....crikey i'm quite shallow really aren't i ?

Northern Exile asks: Congratulations on MOTM, seriously well done. All your running seems to be focussed Darn Sarf, do you see yourself competing a little further North or is that out of the question?
runnerbean says: hi NE, i'd like to race passed London one day

but dragging 2 kids oop Noof where i've heard it's dark 23 hrs a day and very very cold so you need a thermal top isn't really going to happen. But you never know i might get invited to Santas palace one day for champers then i could race coudln't i ?
flying leek! asks: I like to eat my runnerbeans on well buttered brown bread with lots of pepper. How do you like to eat yours??

runnerbean says: Fleeky you are a minger....

i hate runnerbeans but if i did like them i would boil them until they were falling apart (do they fall apart? ) then spread them like jam onto my seven seed hovis bread.....i might even put marmite on them.
Roobarb asks: Well done beanie

Love you lots

If I were to get hold of one of those fancy hand driers (whether legally or not

), where would you put it in your house? x
runnerbean says: Love you heaps too Roobs.....i would put my newly stolen hand drier by the front door so i could warm my hands as i go in and out...do you think i could fit my head in it too?
Sunbed Athlete asks: Congrats!!!!! Is the target of the half marathon sub 1.45 still on the agenda after you've reached your other goals? Will you aim for more time off your other times too?
runnerbean says: Hi SA, ideally i'd like to lower all my times.This year is my first year of 'proper' consistent training so i believe i can get a few PBs next year especially if i concentrate on shorter stuff.The problem is i like everything from 200mtrs to the marathon so i train for everything....i'd be happy with 12 PBs next year too

Minnie Mad asks: Do you prefer coloured fairy lights or white ones? (Congratulations and Merry Christmas btw)
runnerbean says: merry xmas to you too....

i love the white fairy lights.If you put one behind your ear lobe it makes it see through...go on try it...

Enthusiastic! asks: Congratulations you lovely loon

Do your crazy genes contribute to your success in running? x
runnerbean says: thankyou and you're not loony at all are you?....

i think my genes are perfectly 'normal' and it's you lot that have cranky genes but my 'normal' deffo add to my running success.It's down to my genes that i don;t understand logic so when i'm 'supposed' to rest i think why? i'm not doing that...why do i have to sleep? why do my socks come out of the washing machine the right way when they went in inside out? oh we won't get started on that one again eh ? ....
santababy asks: very much deserved Beanster. Serious question (yes really, you cheeky boot) your times have been pretty impressive of late and i think we've yet to see your full potential, what to you put that down to? Whats next on the Beanhitlist? last but not least, will you stop stalking me?
runnerbean says: Morning wee person...serious eh? OK.....I think my times are simply the result of consistent training and believing that you won't actually die very much when you run so fast that you can't breathe.Next year I want a sub 1-45 half,a sub 36 5m, a sub 44 10k plus maybe some fast track times....well faster than SharonD anyway. As for stalking you ,you really should close your curtains....although I like that black dress you're wearing right now....
Wanderers1960 asks: whats your opinion on big puddles.
try and get round them or just run straight through 'em..
runnerbean says: Omg I love puddles.... Never ever run around a puddle, they're there so you can splash through them and soak everyone around you and if you're really clever you flick your foot up behind you and fling the crap from the bottom into whoever is behind yours face.... Neat eh?
Night-owl asks: Well done on MOTM wll deserved. Whats the best race you've ever done and why should i do it? (or anyone else for that matter)
runnerbean says: Hi Owl, I totally loved VLM this year (and hated it at the same time).It proved to me that i could do anything if i put my mind to it.I love the atmosphere, the people, the music even the big balloons at the start.It's something i will always remember forever even if i never do it again.Everyone that runs a marathon should at least have a bash at it.You could always come to Hastings in March and do the half marathon Owl

Argie asks: Photos of puppies... should it be allowed?
runnerbean says: I that depends on what you class as 'puppies'....sometimes (*)(*) are known as puppies so I think Mr Fetch might be picky but I would allow all photos of all puppies especially mine.....
mad4purple asks: Yay congratulations.

well done

which is your favourite toe and why?
runnerbean says: Happy new year Purple head

my fave toe is my big toe, it's the only toe which looks normal and has no sticky out bendy bits. Also I think I need it to run fast, I think I remember being told that if it fell off I would fall over more than I normally do or something.

The Jogger asks: Is it true you trained up sango?
runnerbean says: haha Jogger...he wishes i did then he'd be really fast lol

me and sango always cross paths at the park and stop to gossip about our training or lack of at times.He's injured and i think he did it wearing stilettos or something...

Lyndylou asks: Blimey!!!! Just seen that you are MOTM!!!!! Congratulations

My question - How many dryers does it take to make Beanie set a new PB
xxx (Well done, much deserved xxx)
runnerbean says: Thanks cloth ears

lol I reckon I could PB every time I put my mitts in one...mind you I'll have to run all the way to Brighton to find the nearest one!!!!! I quite fancy trying your head in one to see what happens....